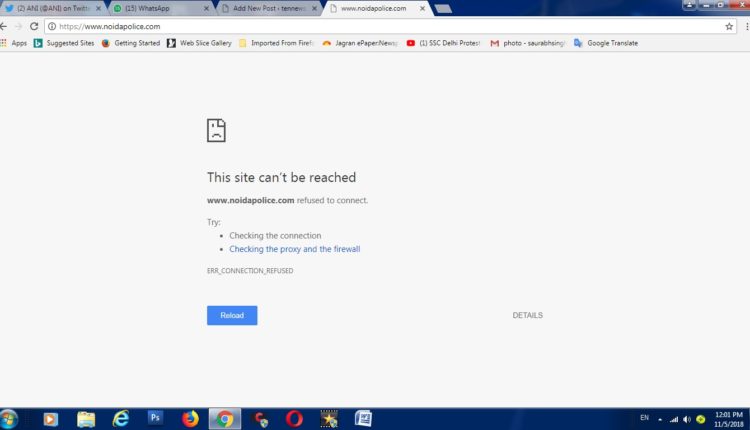 Policing the most IT advanced cities of UP, Noida police loses web presence, Official website unavailable for over 1 week
Greater Noida 11/5/2018) : Noida, touted to be the show window of Uttar Pradesh and one of the most advanced cities of the state, often bewilders in terms of IT and infrastructure when it comes to the role of government machinery.
The latest case in point is that of Noida Police. A part of Uttar Pradesh police, which has lately bagged numerous national and international appreciations for being technologically advanced, Noida police has failed to pay attention towards its online presence.
The website of Noida police has been down for as many 10 days. A city where a large number of technocrat reside, a city where digital penetration is one of the highest in the state, has no official functional forum for registering online complaints.
People have also been facing problems in looking for the numbers of relevant police station officials owing to the absence of the website.
Other than this, the complete vanishing of the website has also completely jeopardized the UP Police's largely publicized initiative of E-FIR's.
It is indeed nothing less than astonishing that in a city such as Noida, the digital presence of Noida police has now stayed limited to only Twitter and Facebook and has seised from existing on World Wide Web in form of a stand-alone website.
Online police verification, citizen services are all on hold for 10 full days owing to the absence of a functional website.
Sharing their concerns about the issue, an IT expert said, "It is very surprising that an organisation none less than the Noida police has allowed their internet presence to lapse. The search engine cache still reads it as the official website of Noida police, however, no page is being displayed. Not only it hinders an empowerment tool for citizens but such a non-monitored approach also lays open doors for hackers and IT fraudulent to use this official account in an illegal way. It is best that Noida police rapidly reinstates its website."
Noida police officials were contacted for their version but response is awaited. The story will be updated after a response is obtained
Update: Soon after the publication of this news report and calling several officials to seek their comment for it, the wesbite has become functional.