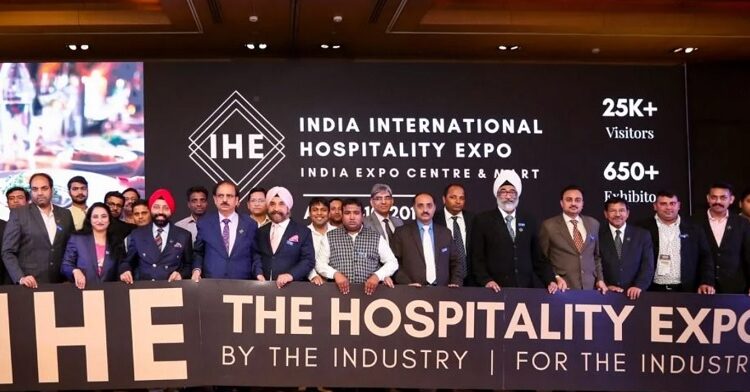 Premium hospitality and food service fair "IHE 2022" to open on 3rd August. Here's all you need to know
Greater Noida, 29th July: India International Hospitality Expo (IHE), a premium B2B trade fair for the hospitality and food & beverage industry is all set to return with its 5th edition at India Exposition Mart Centre (IEML), Greater Noida, from August 3 to August 6, 2022.
A record number of 400-plus exhibitors have signed up for this mega hospitality and food & beverage expo.
IHE provides a number of opportunities for small and medium-sized business owners to network and conduct business with prominent people in the hotel and food service industries. The show is approved under the marketing scheme of the One District One Product (ODOP) programme of the Government of Uttar Pradesh. The MSME Ministry, Government of India, has certified the fair under the PMS plan and passed on the advantage to the IHE 2022 participants for rebates. The National Small Industries Corporation (NSIC) and the Export Promotion Council for Handicrafts (EPCH) have also been encouraging their members to join the exhibition in big numbers.
The trade show, along with its vibrant concurrent programme consisting of a four-day Conclave and six Masterclasses by leading chefs from across the country, will be spread over 30,000 square metres and build on its reputation as a much sought-after interactive platform for the vendors of products and services catering to the hospitality and food service sectors.
A number of organizations and companies have also come forward to partner with IHE2022. These include the Spice Board of India, Clear Water, Maspar, Kohe – the makers of kitchen knives, Incenza Tea &  Beverages, and Watergen. The food products brand, Naturin, is the sponsor of IHE Masterclasses. And two reputed academic institutions – International Institute of Hotel Management (IIHM) and Delhi Skill & Entrepreneur University – are on board as the education partners of IHE 2022. The show is as much for hospitality and food service students as it is for young professional and stalwart decision-makers.
The show's associate partners include A.H. International Pvt. Ltd., Food Service India, Haks, Venus Industries, Loom Crafts Furniture India Pvt. Ltd., Multi Seats Pvt. Ltd., Saimex Exim Pvt. Ltd. and Sunny Overseas. The mix of partners is indicative of the range of products and services that will be on display at IHE 2022 – kitchen and catering equipment, kitchenware, crockery and cutlery, food and beverage products and ingredients, furniture and furnishings, housekeeping and laundry essentials, and varied water technologies.
Speaking on the significance of IHE 2022 in the post-Covid hospitality landcape, Rakesh Kumar, Chairman, IEML, said: "Internationally acknowledged as one of India's biggest B2B shows for the hospitality and food service sectors, IHE is a one-of-a-kind interactive platform that acts as the bridge between sellers of the products and services that are relevant to the industry and their immediate buyers. With four successful editions behind it, including a 100 per cent virtual show, IHE has successfully hosted more than 800 exhibitors and 24,000 visitors in total."
Touching upon the uniqueness of the show, Hari Dadoo, President, IHE, said: "IHE is much more than an exhibition. It is a knowledge fest for professionals engaged in the hospitality and food service sectors. From students of hotel management and the culinary arts to professionals in the F&B, front office, housekeeping, kitchen management, purchase and engineering departments of hotels, to owners and operators of standalone restaurants as well as QSR chains, IHE has something of interest for everyone."
IHE2022 is being supported by leading professional organisations in the hospitality and food service space, including the Indian Culinary Forum (ICF), Purchasing Professionals Forum-India (PPFI), Hospitality Purchasing Managers Forum (HPMF), Professional Housekeepers Association (PHA), Hotel and Restaurant Equipment Manufacturers Association of India (HOTREMAI), the Delhi Chapter of the Women's Indian Chamber of Commerce and Industry (WICCI), and the Institute of Indian Interior Designers (IIID).
In the last few weeks, Ten News has spoken to a lot of industry leaders about the hospitality industry and the role IHE can play in growth of the industry. Click here to read these exclusive interviews: