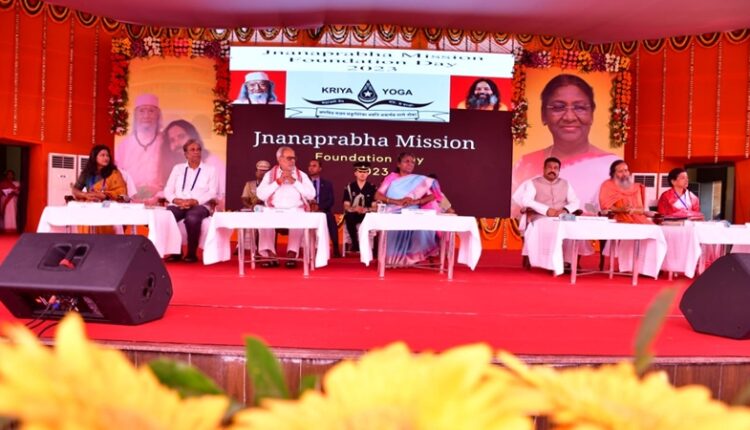 President Murmu joins foundation day celebration of Jnanaprabha mission at Bhubaneswar
Ten News Network

National (10/02/2023): The President of India, Droupadi Murmu graced and addressed the Foundation Day Celebration of Jnanaprabha Mission at Bhubaneswar today.
Addressing the gathering, the President said that she was happy to be part of the Foundation Day celebration of the Jnanaprabha Mission which is established with the aim of awakening the power and potential of mother and building a healthy human society. She said that it is a matter of pride that this Mission has been named after the mother of Paramahansa Yogananda Ji who was his inspiration.
The President said that our sages taught us to consider mother, father, teacher and guest as God. But do we adopt this teaching in our lives? This is a big question. Are children taking proper care of their parents? Often, sad stories of elderly parents appear in the newspapers. She said that merely addressing parents as God and worshiping their pictures is not spirituality. Caring about parents and respecting them is important. She urged all to adopt the service of senior citizens, elders and sick as their vow of life. She said that this is human religion.
Noting the fact that the Jnanaprabha Mission is active in popularizing the 'Kriya Yoga', the President said that whatever be the form – Yoga is an ancient science and spiritual practice of India, whose objective is to create a healthy human society. Prevention is better than cure for a healthy life. If we remain 'Yog-yukt' (associated with Yoga), we can remain 'Rog-mukt' (free from diseases). Through yoga, we can attain a healthy body and peaceful mind. In today's world materialistic happiness is not beyond the reach, but peace of mind may be beyond the reach of many. For them, Yoga is the only way to find peace of mind.
The President said that our materialistic expectations and aspirations are increasing, but we are gradually turning away from the spiritual side of our life. Earth's resources are limited, but the desires of humans are limitless. The present world is witnessing the unusual behaviour of nature which is reflected in climate change and increase in the temperature of the earth. To give a secure future to our next generation, a nature-friendly lifestyle is essential. In Indian tradition, the Universe is one and integral. Human being is only a small part of this Universe. No matter how much progress we have made progress in science, we are not the master of nature, but its children. We should be grateful to nature. We should adopt a lifestyle in harmony with nature.