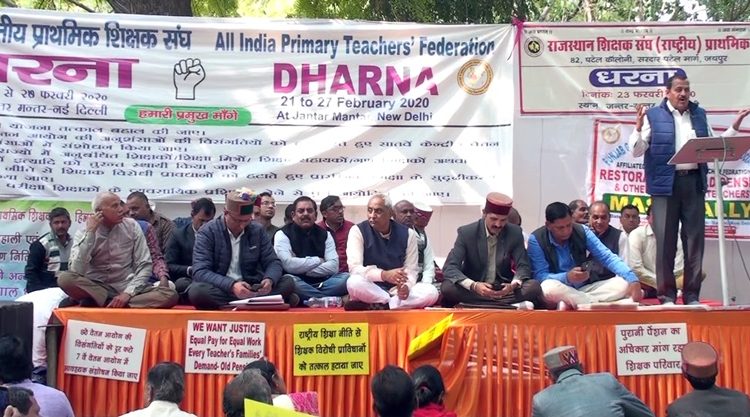 Primary teachers protest demanding revival of Old Pension Scheme
Saurabh Kumar/Lokesh Goswami Tennews New Delhi :
New Delhi : Seven-day protest under the banner of the All-India Primary Teachers' Federation continued on Sunday at Jantar Mantar.
Hundreds of primary schools of Delhi are taking part in the protest led by Ram Pal Singh, president of the All-India Primary Teachers' Federation (AIPTF). The protesters are demanding removal of anti-teachers' provisions from the draft of the National Education Policy, 2019, and solution to anomalies in the 6th Pay Commission.
Protestors shared some of their demands like:
1. Revival of Old Pension Scheme with immediate effect.
2. All the contractual teachers working under different nomenclature like ShikshaMitra/GanaShikshak/NiyojitShikshak etc. should be regularised before 31st March 2021 and uniformity should be maintained in their salaries.
3. Strengthen elementary education and ensure participation of Teachers' organisations while finalising the National Education Policy 2019 to remove anti-teachers' provisions;
4. Remove the anomalies of Sixth Central Pay Commission and implement the recommendations of Seventh Central Pay Commission with effect from 1 January 2016 for the primary teachers throughout the country uniformly
5. Teachers' Eligibility Test throughout India should be conducted before the professional training
Interacting with Ten News AIPTF said, "The federation is committed to ensuring a respectful place for primary teachers in society and improving the working conditions and quality education imparted as well as in creating conducive environment for teaching and learning process." Blaming the Centre, Dr Ram Chandra Dabas, senior vice-president, AIPTF, said, "More than 10 years are over but the anomalies of the 6th Pay Commission have not been resolved."