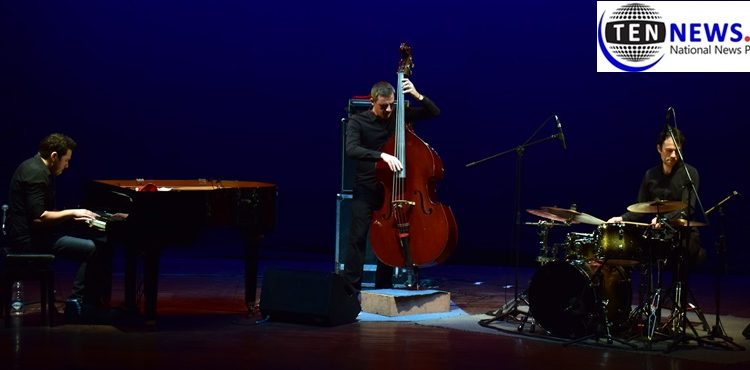 Remi Panossian Jazz Trio enthralls audience with their soulful Jazz Rendition at Connections 2019
Prerit Chauhan (Photo/Video) By Lokesh Goswami Ten News Delhi :

New Delhi: With summer setting in and weekend approaching, the music and dance lovers in Delhi had a good reason to cheer and stepped out to listen to the famous French Jazz Trio from France who spellbounded the audience with some of their award–winning performances with great sense of fluidity and vivid notes on the inaugural day of the Connections 2019.
Some of the performers at the festival are the Remi Panossian Jazz Trio who were elected "Revelation of the year 2011″ by TSF JAZZ! and since then have performed at major festivals around the globe. Montreal jazz Festival, London Sunfest, New Morning and Olympia Halls in Paris, Tokyo jazz festival, Nanjing jazz festival.
Connections 2019, is a brainchild of a widely acclaimed choreographer and dancer Rukmini Chatterjee who is instrumental in bringing these exceptional performances to Delhi. Her determination, dynamism and exceptional talent has resulted in bringing the Beijing Dance Academy, one of the premier dance institutes of the world, to India for the first time.
They are known to give their audiences 'edge of the seat' experiences through there dazzling and magical choreography's.The aesthetics come from there martial arts, acrobatics, ancient poetry, painting and drama. Some of the dances have been created by the choreographer of the Beijing Olympics opening ceremony. 
What's more, on April 13-14, 2019, you can experience 'sheer 'edge of the seat experiences' as Beijing Dance Academy will present brilliant dances which have been curated with dazzling and magical choreography. Some of the dances have been created by the choreographer of the Beijing Olympics opening ceremony. According to Beijing Dance Academy, these Chinese dancers will showcase a a wide variety of dances in their choreography which is to bridge the past and the present. These dances draw from Chinese martial arts and drama and other forms like ancient Chinese poetry, paintings etc. The rationale is to draw a connect with your legacy and roots yet make it exciting for modern audiences.
Talking about the festival, Rukmini Chatterjee speaking to Ten News said,
"The Connections festival is about connecting Delhi audiences to international performances that they would rarely ever witness. This year too we have two unique and exceptional performances of Jazz music and Chinese dance by the Remi Panossian jazz trio from France and the Beijing Dance Academy from China, two totally distinct genres yet sharing the same quest for excellence. What they also have in common is the profound emotional and intellectual connect to there audiences."