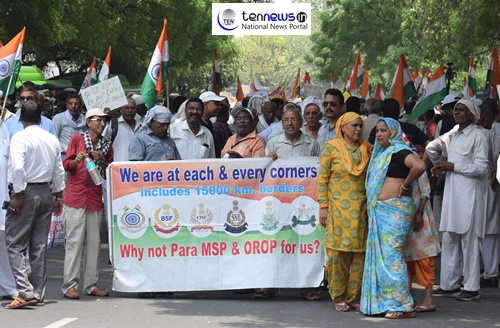 New Delhi: Hundreds of retired paramilitary forces personnel blocked the outer circle of Connaught Place on Thursday afternoon demanding martyrdom staus and facilities at par with Army personal.
As per the police, their protest site was Parliament Street but they moved toward Connaught Palace and blocked outer circle which led to a massive road jam.
After an hour, police rushed to the protest site and urged them to clear the road and return to protest site.
A huge number of CRPF and police personnel were deployed to the spot.
The retired personnel had come from Haryana and were protesting fiercely for their demands.
They belonged to different paramilitary forces like Border Security Force, Indo-Tibetan Border Police, Central Reserve Police Force, Central Industrial Security Force, Assam Rifles and so on.
Speaking on the occasion, one of the protestor said, "We guard boarders in inhuman conditions. Take bullets on chest for the nation but neither Government gives martydom status to us nor offer facilities at par with Army. This bias attitude of government needs to be changed"
He further said, "We are not fighting for us but for next generation because we have already completed our service. Government should look into this matter and must provide facilities like Army is enjoying."
The protestors were thousand in numbers and also demaded implementation of OROP, hike in martyrdom ex-gratia and so on.