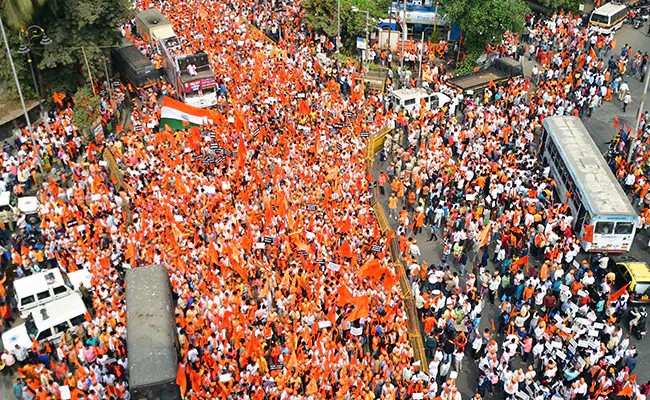 Mumbai (India), 30th Jan 2023: Mumbai witnessed a massive rally on Sunday against "love jihad" as activists of right-wing organizations demanded anti-conversion laws and a crackdown on land grabbing in the name of religion.

The Hindu Jan Akrosh Morcha, organized by the Sakal Hindu Samaj, began at the Shivaji Park in Dadar and culminated at the Kamgar Maidan in Parel, covering a distance of more than 4 km. Leaders and workers of right-wing outfits such as the Rashtriya Swayamsevak Sangh (RSS), Bajrang Dal, and Vishwa Hindu Parishad (VHP) marched in the rally, shouting slogans against "love jihad."
Participants also included several leaders and MLAs of the Bharatiya Janata Party (BJP) and those of Chief Minister Eknath Shinde's Shiv Sena faction. Police personnel were deployed along the route of the march to maintain law and order.
The term "love jihad" is often used by right-wing activists to allege a ploy by Muslim men to lure Hindu women into religious conversion through marriage. Last December, Maharashtra Deputy Chief Minister Devendra Fadnavis said that the government would study laws on "love jihad" framed by other states and take an appropriate decision. He had also spoken about a "feeling" in the legislature regarding the Shraddha Walkar case that instances of "love jihad" are seen on a large scale in the state.