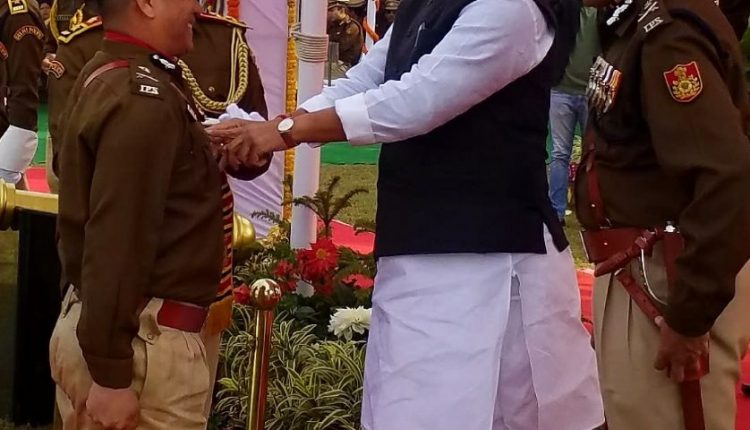 Robin Hibu gets honoured with President of India Distinguish Service Medal again.
By Bipin Sharma
One of the most outstanding officers of the Delhi Police, and the first IPS officer from the North Eastern state of Arunachal Pradesh IGP Robin Hibu has brought laurels to not only his home state, but to the entire country. Adding another feather to his cap, the dashing officer has recently been honoured for the second time with the prestigious President of India Distinguish Service Medal by Home Minister Rajnath Singh. It is indubitably a rare honour for someone to be awarded again for the second time with the President of India Distinguish Service Medal for 2017 – 2018 at Delhi. The First President of India Medal for Meritorious Service was awarded to him in 2009 – 2010. In the past, Hibu was conferred the Police Medal for his meritorious service in 2010, in addition to twice being honoured with the Gold Medal in 2003 and 2009. He was also decorated with the prestigious UN Peace Medals for Service in Kosovo in 2000 and Bosnia in 1999 by the legendary U.N. Secretary General Kofi Anand for his distinguish service in U.N. Police as U.N. Police Commander at Gjilane, Kosovo and Bosnia Herzgovina, Yugoslavia. He is also a recipient of two State Arunachal Gold Medals awarded to him by Governor General (Rtd.) JJ Singh and Governor Late RK Sharma in Itanagar. Notable among the Civil Society Honours for Hibu include the NE Angel Award, Guru Ka Ladla Award, Samajik Ratna Puraskar, Rashtriya Gaurav Puraskar, Delhi Udbhav Sahitya Samaj Seva Samman, Best IPS Officer Award (Newspapers Association of India) and the Esprit De Corps Medal to name a few.
By getting chosen for a stint in Rashtrapati Bhavan in 2017 last year, Hibu became the first IGP from the NE region to serve as Joint Commissioner in the Rashtrapati Bhavan Secretariat in New Delhi. Prior to this, he was working as the Joint CP, Training, and also the nodal officer for North-Eastern community in the Capital. As one of the most decorated police officers of his times, his selection as the Joint Commissioner in the Rashtrapati Bhavan is an outcome of years of hard work, passion, and commitment. He has made a definitive mark by leading from the front, and relentlessly crusading against ending racism. A first class Post Graduate in Sociology from JNU, New Delhi, Hibu is also the founder cum President of 'Helping Hands' which is a charitable, non profit, non government organization working pan India for empowering the needy, with emergency and legal support. He was the driving force behind the glorious Thanksgiving event "India for North East People-Unity in Diversity" organized last year for honouring 'Samaritans' who had lent crucial support to North East people in the crucial reckoning hours of their grief and sorrows. The emotive thanksgiving function was graced by the presence of MPs, Ministers, prominent dignitaries and bureaucrats besides a huge turnout of people from the North East.
Sharing more on his recent accomplishment, Robin Hibu said, "I feel overwhelmed to be honoured with the President of India Distinguish Service Medal for the second time. Heartfelt gratitude for the countless good wishes and prayers that gives me the strength and inspiration to deliver more. It's been an extremely challenging journey so far, and I have no qualms in saying that I have never shied from taking the less travelled roads. I am pledged to serving the North East People in distress, and empowering them by creating awareness, providing legal-emergency assistance as well as healthcare–education facilities. We have been spreading all round awareness among people about the need to ensure their overall wellbeing, and to shield them from any discrimination. Every member of the society and every state is an integral component of the country, and in the true sense, happens to be the mainstream segment of our country and the pluralistic society. The seven sister states of the North Eastern namely Arunachal Pradesh, Assam, Meghalaya, Manipur, Mizoram, Nagaland and Tripura' certainly being no exception, it thus becomes the duty of every citizen to ensure their safety and security. The sacrifice of Nido Tania who was brutally assaulted and murdered should not go in vain. Let us not forget that the people of North East add distinctive beauty and vibrancy to the country. As a representative of the North East people, I have strived to enrich the NE mosaic culture and heritage in the majestic ambience of the Rashtrapati Bhavan at Raisina Hill. It's an earnest desire to see my North East brothers and sisters play a more pivotal role in the country in the coming times. Integration of all states and UTs of the country will play a key role in realizing Prime Minister Narendra Modi's ambitious dream of 'New India'. Having spearheaded myriad campaigns against eve teasing and racial discrimination, I have always stressed on the importance of girls learning fundamental self defence skills. I conducted special workshops in martial arts for our cadets and new recruits at the Delhi Police Training College. Being trained in self defence skills is the stepping stone to realizing the larger goal of 'Women empowerment' and 'Total equality'."