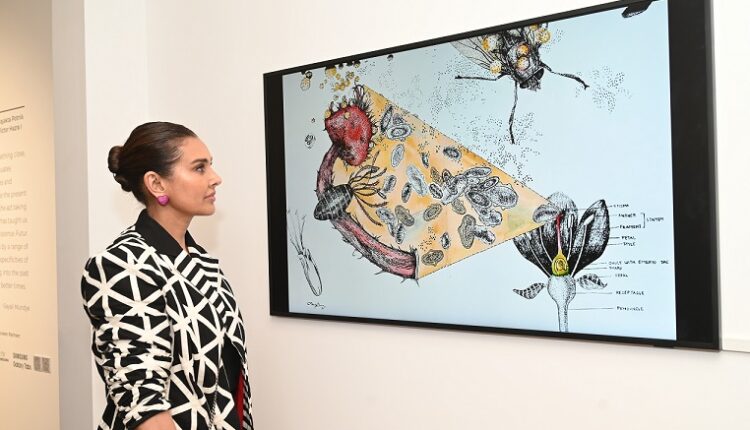 Samsung to Create a Real Canvas Like Digital Art Experience on Its Lifestyle TV

Mumbai, India – January 13, 2023 – Samsung, India's largest consumer electronics brand, has collaborated with TheUpsideSpace, co-founded by Lisa Ray – actor, wellness advocate, writer, and art aficionado, as the screen partner for their digital art display on its Lifestyle TV, The Frame at the APRE Art House for Mumbai Gallery Weekend. TheUpsideSpace is a curator led NFT marketplace spotlighting art and artists from Southeast Asia, South Asia and the Middle East.
Tastefully designed to make luxury living spaces more distinctive, the Frame comes with Matte Display to eliminate reflection on the screen allowing you to feel the texture of the artwork delivering a real-life art on canvas experience.
This partnership aptly demonstrates how the display of art has evolved over the years and how digital platforms are revolutionising the way art enthusiasts are consuming art.
Starting January 12, TheUpsideSpace and the APRE Art House are bringing together physical and NFT works by a range of artists from South Asia. With a steadfast belief in the power of storytelling through art, TheUpsideSpace partners with a portfolio of 10 diverse artists. Some of the artists, such as, Manjot Kaur on "Alpha Canis Majoris" and Yasir Waqas on "scraped together a small square of dust," will be displaying their artwork on Samsung's lifestyle TV, The Frame.
The event kicked off with an exclusive walkthrough of the exhibition with Lisa Ray, the curator, and some of the artists. This exhibition leverages the unique cultural insights and perspectives of the artists, fostering NFT art appreciation for both art lovers and novices on The Frame TV.
The Frame TV is designed to enable art lovers to bring alive local as well as world famous artwork on their walls, which makes it an ideal screen partner at the Mumbai Gallery Weekend.
Commenting on the collaboration, Lisa Ray, Co-founder of TheUpsideSpace, says, "From canvas to pixels, artists have always embraced innovation to allow their practice to evolve. When it comes to expression through art, the world is changing; the form is changing but we place creativity at the wheel. We are excited to partner with Samsung to bring alive digital artwork on The Frame TV. It's a beautiful union of art, technology, and design."
"The Frame is a lifestyle TV that has been designed for art enthusiasts to adorn their living space with tastefully curated artwork from all around the world. It comes with a built-in Art Store that allows art lovers to curate their personal art collection from a growing library of over 1,600 pieces of world-famous artists including Indian folk art. This collaboration is a testament to our vision of connecting art lovers with local and global artists, through technology," said Mohandeep Singh, Senior Vice President, Consumer Electronics Business, Samsung India.