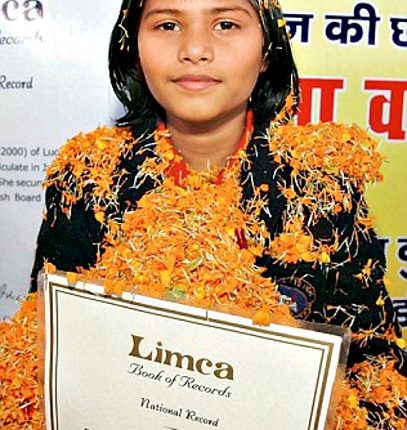 Sanitation Worker's 15 year daughter completes M sc. all set to become the youngest PhD scholar!
Saurabh Kumar
23/1/2018            Saurabh Kumar
Meet Sushma Verma, a 15-year old young genius from the outskirts of Lucknow, Uttar Pradesh, who has made headlines by clearing MSc at the tender age of 15 years only. She completed her MSc.(Microbiology) from Babasaheb Bhimrao Ambedkar (Central) University (BBAU).
She has created history by becoming the youngest person in the whole country to do so. Now she is taking admission in Phd and with that she will also be the youngest Phd scholar. Daughter of a sanitation worker who is employed in the same college where she studied her Msc, she has made her whole family proud with this achievement. She not only cleared the course, but also topped the class in the first, second and third semesters in spite of being the youngest in the class. Most of her classmates were at least eight to nine years older than her.
Her talent was discovered when she recited the Ramayana at a local school function at the age of two. She did her High school at the age of seven and then Bsc at the age of 13. She says  " I am not eligible of appearing in competitive exams but I am willing to peruse  Phd  in Environmental  Microbiology".
Her Father had a qualification of 7th standard and her mother never entered int the premises  of school. Earlier father used to work as a daily  wage laborer but now vice chancellor of Sushama's University who got very impressed with her talent, offered him a job in his university as a Sanitation  in charge.
Shushama's Mother had disappointment of her illiteracy she says "if she is literate  she  may be able to suggest  something good to her daughter. Now Shushma  want to offer her knowledge to her younger sister Ananya who is just three year old but very eager to learn.
Sushama  is inspiration for thousands and we congratulate her on her achievements and wish her luck and hope to see her scaling new heights