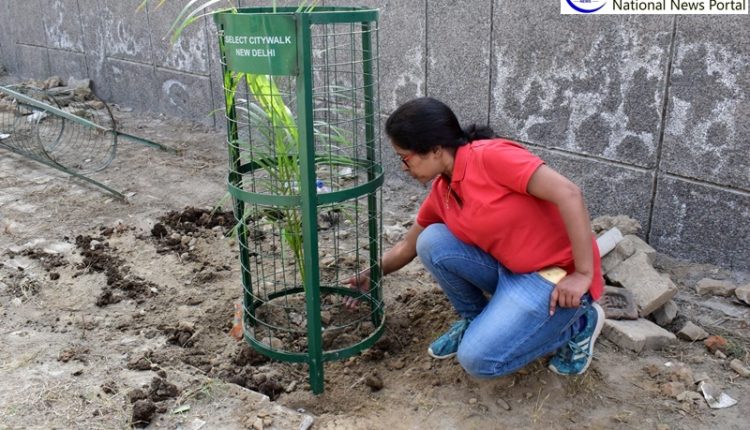 Select CITYWALK and Waste Roots NGO #GreenWaliDiwali Initiative Show Ways To Help Environment By Recycling
By Talib Khan / Photo And Video By Lokesh Goswami
Noida, (8/12/2018): Promoting recycling, sustainability and a greener environment, Select CITYWALK , the most popular shopping center in Delhi NCR, collaborated with Waste Roots NGO, a social enterprise working towards greener environment, to celebrate #GreenWaliDiwalifrom 29th October to 4th November at Select CITYWALK.
Under the campaign, Select CITYWALK invited people to support the campaign by collecting old newspapers which were then sent for recycling. The campaign was a huge success and resulted in collection of over 6087 kg of old newspapers. For every fifty kilograms of newspapers collected, Select CITYWALK planted one tree in the Green Belt Area of Noida on 8th December.
Commenting on the initiative, Yogeshwar Sharma, CEO and Executive Director, Select CITYWALK, said, "At Select CITYWALK, we have always been working towards promoting sustainability and a greener environment for the larger benefit of the environment. The campaign was a huge success and it encouraged people in a unique way to contribute old newspapers for recycling and getting plants in exchange".
"The initiative helped us gather close to 6087 kg of old newspapers which were sent for recycling. As a result of this initiative, we planted over 100 trees in NCR region. This is a testimony to the kind of impact that the campaign has created towards promoting an environmental balance."
While talking to Ten News, Sudha Singh, Founder of the Waste Roots told us about the initiative, she said, "Waste Roots is an initiative in which we plant 1 tree for every 50 kgs of newspapers and also told us about the previous initiative, 'GREENDIWALI' which happened last month."
She also said that "the idea behind this initiative is to handle the waste differently and to promote the recycling and to motivate the people to plant more trees to make the environment greener".
"Neem and Peepal trees are being planted there as it was the request of the RWA of sector 122 because they will be taking care of the trees planted there", she added.
Under the initiative, around ten schools actively participated in the campaign and contributed in collecting close to 4300 kg of old newspapers. Children from schools came to Select CITYWALK for offloading the newspapers collected from their homes and societies.
To garner maximum participation from visitors, Select CITYWALK provided cab services in South Delhi within a radius of five kilometers to pick up newspapers from the doorstep of consumers. People who brought in close to five kilograms of newspapers were gifted an air-purifying potted plant.