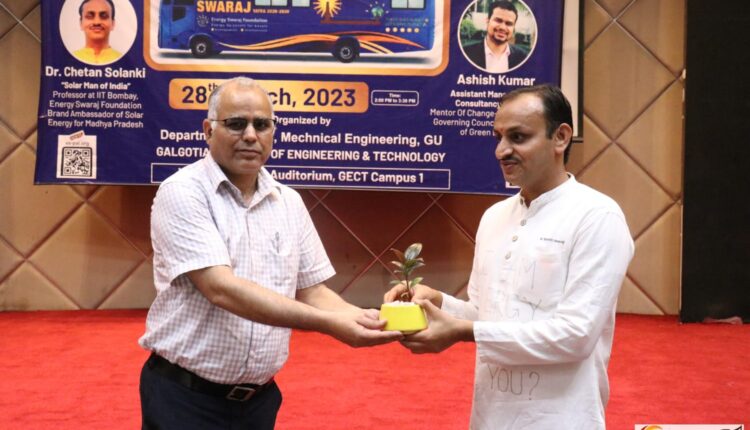 Solar man of India, Dr. Chetan Solanki, calls for "Energy Swaraj" at Galgotias College
TEN NEWS NETWORK
Professor (Dr.) Chetan Solanki, founder of the "Energy Swaraj Foundation," Visited Galgotias College of Engineering and Technology campus.

Pro (Dr.) Chetan Solanki along with his team arrived the campus of Galgotias College of Engineering and Technologyin a solar bus. Green Environment Club (GEC) of Galgotias of Engineering and Technology had organized the guest lecture.
Dr Chetan Solanki, who is currently a professor at IIT Mumbai and who is popularly called the "Solar man of India" stated that Mahatma Gandhi is his motivation and he too wants to give "Swaraj" to india but his vision is of "Swaraj by sunshine." He firmly believes that it is the responsibility of every citizen to leave the planet a better place than they found it.
Dr Solanki said that we the people are at the center of this Energy crisis, since we are the consumers of carbon, coal, diesel, gasoline and gas of all which emit toxic substances into the atmosphere. "For energy Swaraj, I have set out on a trip for the 11 years in order to reach billions of people" he said.
Sunil Galgotia, the chancellor of the university lauded the work of Dr Chatan Solanky and the CEO, Mr Dhruv Galgotia said that the whole world should join Dr Solanke's mission and protect the environment.