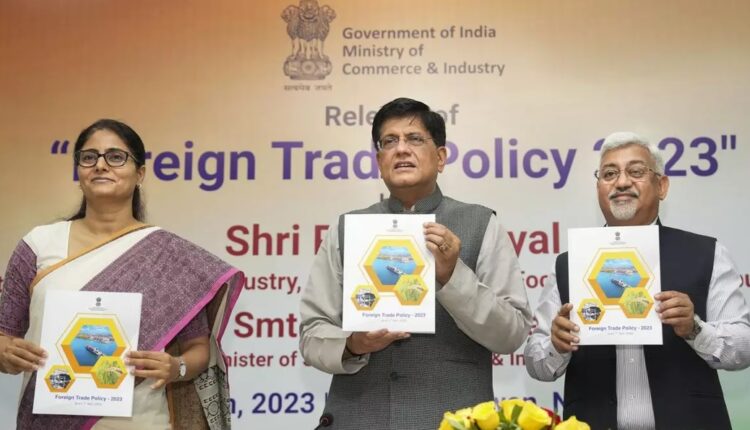 Moradabad and Varanasi declared as town of Export Excellence for Handicrafts
TEN NEWS NETWORK
New Delhi – March 31, 2023 – Today Union Minster of Commerce & Industry, Consumer Affairs, Food & Public Distribution and Textiles, Piyush Goyal announced the new Foreign Trade Policy 2023. Also present on the occasion were Anupriya Patel, Minister of State, Commerce & Industry, Senior Government Officials and heads of Export Promotion Councils and Industry Associations.

The Minister while addressing the gathering said that the new Foreign Trade Policy is dynamic, WTO compatible and hoped that it will bring continuity and stability as the policy is not time bound and open for amendments as per the needs of the trade and global economic environment and will help trade facilitation and export promotion. The Foreign Trade Policy is a vision document which aims to make  India a developed economy in this 'Amrit Kaal'.
Raj Kumar Malhotra Chairman-EPCH said that the new FTP is progressive and forward-looking and aims to achieve 2 trillion dollar merchandise and services exports by 2030.  He welcomed the declaration of Moradabad and Varanasi as Towns of Export Excellence (TEE) and hoped that it will boost the exports from these two very important handicraft clusters in the years to come. Adding further, he said that various provisions in the new FTP would result in increase in exports of handicrafts items in the financial year 2023-24 and help the sector maintain the growth and achieve its export target.
The Handicrafts Sector has been given due recognition in this FTP 2023 and some of the major provisions include the following:-
Moradabad and Varanasi (Uttar Pradesh) have been added in the list of Town of Export Excellence (TEE) for handicraft sector, which will make these towns eligible for enhanced financial provision for marketing, capacity building and infrastructure under various Government schemes.
The Status holder export thresholds have been rationalized.
All FTP benefits are to be extended to the e-Commerce exports and the value limit for exports through courier services is extended from Rs. 5 lacs to Rs. 10 lacs.
Special outreach and training activities for small e-commerce exporters.
Benefits of Self-Ratification Scheme for fixation of Input-Output Norms extended to 2 star and above status holders in addition to Authorised Economic Operators at present
Taking a step forward in the direction of ease of doing business, the present FTP focus on online approval and reduction in time frame in  promotional scheme and also reduction in fee for MSMEs under AA and EPCG schemes.
Special Amnesty scheme for one-time settlement of default in export obligation by Advance Authorization and EPCG authorization holders being introduced.
EPCH is a nodal agency, promoting exports of handicrafts from the Country to various destinations of the world and projecting India's image abroad as a reliable supplier of high quality handicrafts goods & services. The Handicrafts exports during the year 2021-22 was Rs. 33253.00 Crores (US $ 4459.76 Million) and during April-February' 2022-23 is Rs. 28,727.91 Crores and USD 3505.84 Million informed by R.K. Verma, Executive Director-EPCH.