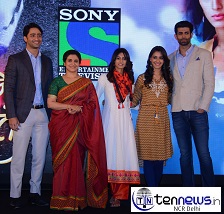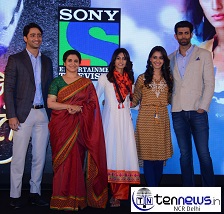 Love is in the air at Sony Entertainment Television
~Sony Pictures Networks flagship Hindi GEC strengthens its prime time programming with the launch of two new fiction shows premiering 29th February, 2016 ~
National: Renowned for presenting some of the most popular love stories which deal with complexities of relationships, Sony Entertainment Television has surely carved a niche for itself in the genre of contemporary romance. This February, the channel is all set to regale its audience with the launch of two new shows – KUCH RANG PYAR KE AISE BHI and EK DUJE KE VASTE. Premiering 29th February at 9:30 pm and 10 pm respectively. Both the shows storytell a unique and relatable take on the emotion that binds the world – LOVE!
Produced by Beyond Dreams Production, Kuch Rang Pyar Ke Aise Bhi boasts of a talented star cast of Supriya Pilgaonkar, Shaheer Sheikh and Erica Fernandes in pivotal roles. It is a new age love story that deals with modern day intricacies of romantic relationships. It will chronicle the journey of Dev (Shaheer Sheikh) and Sonakshi (Erica Fernandes) highlighting the sacrifices they are willing to make in order to keep the harmony in their families, intact.
Produced by Bindu Productions, Ek Duje Ke Vaste is a story of Shravan (played by Namik Paul) and Suman (played by Nikita Dutta) that explores the conflict between love and self-respect. While on one hand Shravan's past experiences with women has made him a chauvinist by nature, on the other hand, Suman is very independent and values self-respect over everything else. What happens when the paths of these two individuals cross, forms the crux of the show.
While Kuch Rang Pyar Ke Aise Bhi will also star Chestha Bhagat, Ashika Bhatia and Alka Mogha in pivotal roles, Ek Duje Ke Vaste will see Satyajit Sharma, Geeta Tyagi and Vishal Jethwa playing important characters.
Comments:
Danish Khan, EVP & Business Head, Sony Entertainment Television
"Kuch Rang Pyar Ke Aise Bhi & Ek Duje Ke Vaste are based on real life insights and their soul lies in the story & narration. While Kuch Rang Pyar Ke Aise Bhi boasts of outstanding writers Mitali & Raghuveer, Ek Duje Ke Vaste is being written by Dilip Jha who is known for the classic Bade Ache Lagte Hain. We are thrilled to associate with Yash Patnaik & Dilip Jha for these two shows respectively."
Yash Patnaik of Beyond Dreams Productions
"I am thrilled to associate with Sony Entertainment Television for our new show Kuch Rang Pyar Ke Aise Bhi which is a modern take on love. Everyone who is in love will be able to relate to the show as the struggles are core to every romantic relationship and all couples go through these at some point in their lives. The pairing of Shaheer and Erica brings with it a lot of freshness to the show and will be loved by the audience."
Bindu & SJ Studios LLP
Dilip Jha of Bindu Moving Images, writer & producer, said, "Ek Duje Ke Vaste is an exceptional love story between two very different but strong individuals. It is a layered love story where two self- respecting people are neither able to tear away from each other nor accept that they love each other due past & present differences. It has a touch of classic but with a contemporary narrative. I am extremely delighted with my collaboration with Sony Entertainment Television and I am sure Ek Duje Ke Vaste will create a magic on the Indian Television."
So this February, come be a part of this love journey starting from 29th February, 2016. Don't forget to watch Kuch Rang Pyar Ke Aise Bhi and Ek Duje Ke Vaste at 9:30 pm and 10 pm respectively only on Sony Entertainment Television
About Sony Entertainment Television
Sony Entertainment Television (SET), one of India's leading Hindi general entertainment television channels is a part of Sony Pictures Television (SPT) backed Multi Screen Media Private Limited, which is India's leading television network. Since its launch in October 1995, SET has created a unique space for itself in the Indian Television industry. Pioneering new waves in television programming, with blockbuster movie premieres, big format non – fiction shows and an impressive array of fiction shows like Indian Idol, Kaun Banega Crorepati, Entertainment Ke Liye Kuch Bhi Karega, Bade Acche Lagte Hain, Bharat Ka Veer Putra Maharana Pratap, Itna Karo Na Mujhe Pyar, Sankat Mochan Mahabali Hanuman, Suryaputra Karn, CID and Crime Patrol. SET is known for its innovative concepts and exciting formats and is the most preferred family entertainment channel which has been providing strong platforms for more than 700 brands to reach over 50 million households in India. In addition, Sony Entertainment Television is also available in the US, UK, Africa, Europe, Canada, Australia, New Zealand, Singapore, Pakistan, Nepal, Bangladesh, Maldives, Malaysia, Indonesia, Fiji Islands and Seychelles. In total, SET influences over 300 million viewers in the Indian sub-continent, and the South Asian Diaspora worldwide.
About Sony Pictures Networks India (SPN):
Sony Pictures Networks India (SPN), (formerly Multi Screen Media Private Ltd.), is a subsidiary of Sony Corporation which owns and operates the Sony Entertainment network of television channels. As a leading television network in India, SPN comprises of Sony Entertainment Television (SET), one of India's leading Hindi general entertainment television channels; MAX, India's premium Hindi movies and special events channel; MAX 2, a second Hindi movie channel showcasing great Indian Cinema; SAB, a family comedy entertainment channel; PIX, the English movie channel; AXN, the leader amongst English Entertainment Channels; AATH, the Bangla movie channel, MIX a refreshing Hindi music channel; SIX and SONY ESPN – the cluster of sports entertainment channels and LIV – the Digital Entertainment Channel, and, SPN's Motion Pictures division, formerly MSM Motion Pictures.
Sony Pictures Networks India is in its 21st year in India.