BUSINESS ENQUIRIES WORTH Rs 1625 CRORES GENERATED IN THE 41st IHGF DELHI FAIR (SPRING) 2016 WITH THE VISIT OF OVER 4700 BUYERS
GREATER NOIDA LOKESH GOSWAMI 

Greater Noida – 23 February, 2016 –   Business enquiries worth 1625  crore Rupees are generated as curtains are drawn today to mark the closing of 41st edition of IHGF Delhi fair Spring 2016 (earlier known as IHGF) organized at the India Expo Mart in Greater Noida by Export Promotion Council for Handicrafts (EPCH) – the nodal agency for promotion and development of handicrafts in the country. Over 4700 trade visitors including International buyers, buying agents, domestic volume retailers interacted with over 2800  exhibitors making it the largest  fair of home, lifestyles and fashion products and the most sought after  one stop platform to source Indian handicrafts informed Shri Rakesh Kumar, Chairman-IEML and ED-EPCH.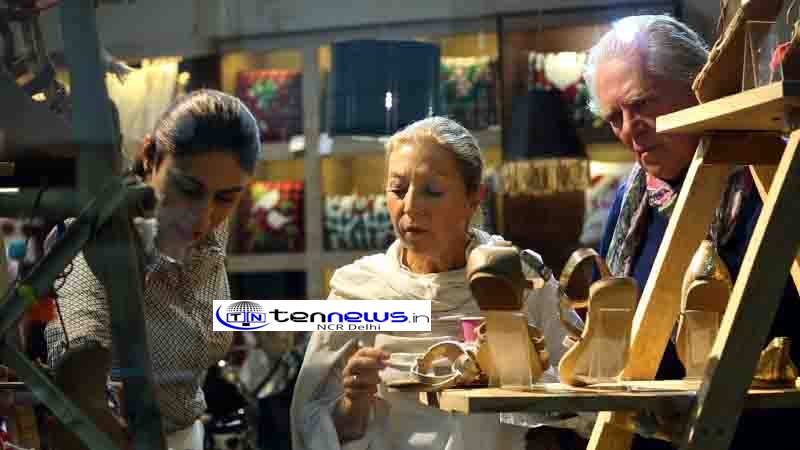 The spectacular display of traditional Indian art and craft mesmerized overseas volume buyers  from more than 110  countries  like USA, UK, Switzerland, Spain, Sweden, Argentina, Brazil, Colombia, Chile, Costa Rica, Panama, Peru, Algeria, Austria, Australia, Bahrain, Bahamas, Botswana, Belgium, Cameron & Central Africa, Canada, Croatia, China, Cyprus, Denmark, Egypt, Estonia, Finland, France, Germany, Greece, Holland, Hungry, Hong Kong, Slovakia, Slovenia, South Africa, Taiwan, Thailand, UAE, Uganda, Ukraine, Uzbekistan, Uruguay, Yemen, Zimbabwe, Tunisia, Ghana, Italy, Iran, Indonesia, Israel, Jamaica, Jordan, Japan, Kazakhstan, Korea, Kenya, Kuwait, Latavia, Lebanon, Lithuania, Mali, Malaysia, Mexico, Mauritius, Morocco, Muscat, Namibia, Newzeland, Norway, Oman, Palestine, Philippines, Poland, Portugal, Qatar, Congo, Romania, Russia, Saudi Arabia and Singapore and Indian volume retail  visitors have visited the show.
A buyer Ipek Taneri from Turkey said, "This is the first time that I have visited this fair. I was not expecting such a big exhibition, but what I see here is surprising. I have placed few sample orders as of now. I plan to visit this Fair in the coming years as well."Foreign media from African and LAC region were also invited to cover the home, lifestyles and fashion products which are still unexplored in these countries. More than 2000 types of products including  Houseware, tableware, kitchenware, hotelware,  Home furnishing, home textiles, linens and madeups,  Festive décor, Christmas, Halloween, valentines, birthdays, anniversaries celebrations, Fashion jewellery, bags, scarves, ties, fashion compliments, Luggage, leather bags, and cases, Furniture, hardware and accessories, carpets, rugs and floorings, bathroom accessories,  spa and wellness, candles, incense, made ups, burners, potpourri and aromatics, stationery, handmade paper items and greeting cards,  lamps and lighting, chandeliers, lampshades, lanterns, Decorative articles & giftware, Garden ornaments, lawn accessories,  Sustainable products, jute, cane, bamboos, natural fibres, hand woven mats,  Educational games, trophies, games, toys were on display.Various informative seminars such as positioning of North Eastern Region handicrafts in domestic and overseas markets, clean technology for metalware industries in Moradabad, Trends & forecast for Spring Summer 2017, necessary compliances in handicrafts sector, Timber Legality Assessment and verification scheme, Green sustainable products – trends and forecast, increase in exports through effective use of digital medium, exploring new markets for development and promotion of exports of Indian handicrafts, explore European market for outdoor furniture etc. during four event.'A mega panel discussion on retail and e-commerce: Partners in Progress- Kal aaj aur kal 2014-2016-2018', etc.  was held on 3rd day of the fair in which renowned retailers and e-commerce leaders such as  Mr.Kumar Rajagopalan (CEO, Retailers Association of India, Mr.Navin Mistry – Head e-bay, Mr.  Vivek R Category Head –Flipkart India Pvt. Ltd.,Mr. Wenketesh – Category Head Amazon, , Mr. Vikram Chitnis from Home Stop, Kashyap Vadapalli Chief Marketing Officer & Business Head – Peppefry.com, Mr.Sitaram Kumar Vice President – Home Centre India, Ms. Sonali Bhandari – Senior Executive Westside, Mr. Ashish Jhalani, Founder E-tailing India &  Mr.Karan Jethwani Co ordinator – Domestic Retail Promotions at Export Promotion Council For Handicrafts were present  informed Mr. Rakesh Kumar, ED-EPCH.While welcoming the retailers and e-commerce leaders during mega panel discussion, Shri Kumar said  that The handicrafts sector has a lot of variety of products and I am sure that after the visit to the fair the panelist would really make up their mind to concentrate in this sector in a big way which can really become one of the profit centers for them in their stores. The handicrafts in present scenario is not merely a product made out of the clay, iron or some other material but it is now being introduced by the best and renowned brand of the world in entire home, lifestyle, fashion and gifts segment and handicrafts exporters should seriously look into domestic market too alongwith overseas markets.The show has become "One stop Sourcing destination" for major International brands Bloomingdales, Macy, K-Mart, Wall Mart, Pier 1, Mark  and Spencers, Woolworth, Karstadt, Peek and Cloppen Berg, Carrefour, hobby lobby.The exports of handicrafts in nine months of current financial year is  Rs. 14,782.10 (2015-16) against Rs. 13,460.25 crores in the preceding period of 2014-15, thereby showing  growth of 9.82% in rupee terms and 3.02% in dollars terms.  The handicraft exports is set to achieve its target of Rs. 20.368 crores (US$ 3233 million) for the year 2015-16 despite the decline in many sectors of merchandise exports from India.