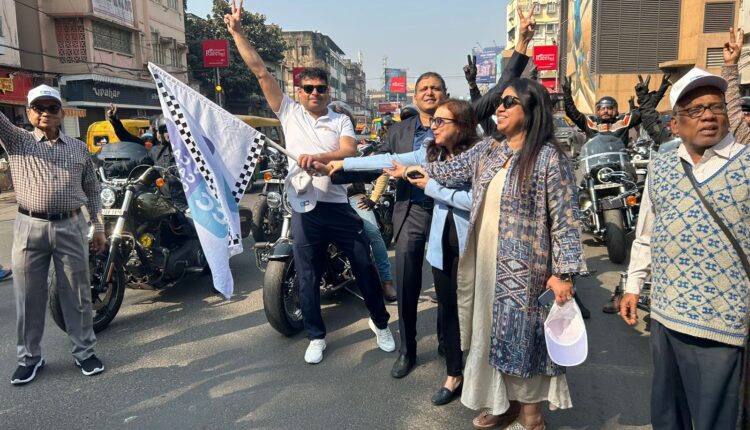 The City of Joy to Witness a Joy Ride!

Kolkata, 5rd February, 2023: World Cancer Day celebration continues in the city of Joy, in a way that we might not have witnessed before. And this year, with VCCC's initiative of 'Cancer Se Jeet', Kolkata is making a blueprint in the history of World Cancer Day celebration. Recognising the fact that cancer is an ongoing battle that must be conquered at all cost, this year's joy ride is going to be a living testimony of the cancer warriors who have braved through it all. The programme being partnered by the Bengal Chapter of H.O.G showcased a rally of Harley Davidson Motorcycles to make the event a head turner, along with the tour of the cancer survivors in a Double Decker bus.
Modern science and advancement in technology is making the impossible a possible feat but it's still a long road ahead. Today, V Care Cancer Centre (VCCC) organised this programme to spread the message that cancer can be defeated. VCCC is a cancer center located in the heart of the city, near Phoolbagan metro station that provides the latest diagnosis and treatment procedures for cancer, with the aim of providing holistic care to patients. It's one of the best centers in the city that specialises in oncological services but is definitely not limited to it. With the vision of providing the best treatment with a human touch, post chemotherapy, post surgery home care services;  it caters to a complete range of  cancer care and an umbrella of hope.
VCCC focuses primarily in cancer care, it offers a wide range of multi modal services such as tumor board facilities, cancer vaccination, genetic counseling, immunotherapy, pain management and other allied services. Started by Senior Oncologist, Dr. Vikash Kumar Agarwal and Health Coach, Vibha Agarwal, who are the backbone of this organisation have been steering forward with the mission, "Together, We Can Cure Cancer."
Dr. Vikash Kumar Agarwal, senior oncologist, V Care Cancer Centre, said, "Being in this profession for over two decades, I can guarantee that the only disease that cannot be cured is the disease of pessimism." VCCC has been the torchbearer of hope and positivity in a world that believes that cancer means an inevitable death and so even in the most harrowing times, one must not forget to smile.
As part of the "Cancer Se Jeet" programme, these brave cancer warriors were given a joy ride in a Double Decker bus. The event was flagged off from Karunamoyee & the bus covered a well planned route following St. John's Church, Eden Gardens, Princep Ghat to be finally dropped off at the Victoria Memorial. It was spectacular to behold the event with such grace and what sheer joy to have the I-League winning famous Spanish football Coach Kibu Vicuna to be part of this celebration too.