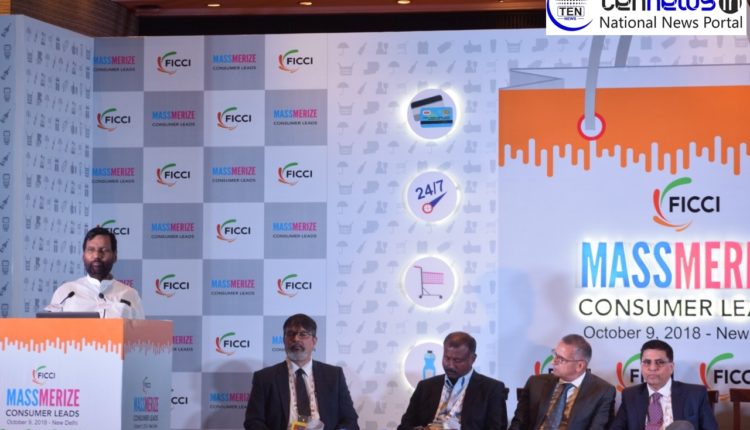 The Takeaways from the FICCI organised Massmerize 2018
Vishal Malhotra (photo & video) By Rahul Kumar Jha
New Delhi: FICCI organised Massmerize 2018 today at Hyatt Regency which was conducted with some productive discussions about Indian Businesses.
Ram Vilas Paswan, Union Minister for Consumer Affairs, Food and Public Distribution who started his political career as member of Samyukta Socialist Party attended the occasion as Chief Guest. He was elected to the Bihar Legislative Assembly in 1969 and further became the general secretary of the Lok Dal,.
He said, "Today we are all surrounded by consumers. Some of them are big consumers and some are small consumers. India is now at 6th position in terms of GDP, and businessmen in our country are proving what they can achieve. India will soon touch the assured position of 3rd by 2025 as per the calculations we have been doing."
Krish Iyer, Chair-FICCI Retail and Internal Trade Committee and President & CEO Walmart India Pvt. Ltd., addressed the session and said,
"It is an exciting time to be in India. Indian economy is growing at a good pace on the back of formalization of economy, structural reforms by the government and the digital connectivity, which is the most important of all. "
Krish has over three decades of rich experience in varied fields such as finance, marketing, retail and general management.
In the field of retail, he has gained significant experience over the last 16 years in various countries such as Hong Kong, Philippines, Taiwan, Malaysia, Thailand, Japan and USA in addition to India. He joined Walmart international as a Senior Vice President in 2012.
Sanjiv Mehta, Chair-FICCI and MD, Hindustan Unilever Limited shared his views about India's progress in the field of Retail. He said,
"There are very few places in the world today, which offers as exciting opportunities for consumer goods as India does. With the change in social and economic landscape, consumers in the country are evolving. A new wave of people are entering the consumption cycle.
When I was away from my country for 21 years, 20% of India's population moved from bottom of the pyramid to the lower middle class. In India, we are witnessing a decent increase in the earnings of this section of the population who moved up a step in the pyramid."
Sanjiv has been with Unilever for nearly 26 years and for the last 16 years he has been leading businesses in different parts of the world.
Rashesh Shah, President FICCI welcomed the Chief Guest and released a report on "Consumer Leads" and followed by which, he said,
"India is at a very unique phase of its economic evolution. Lot of us consider this time we are living in, as the "Golden Age" of India.
We are now worth 2.5 trillion dollars according to our constantly growing GDP which was just worth 1 trillion dollars back in 2007.
Few months back we overtook France in terms of GDP, and we hope to be in the top three GDP powers by 2025."
Rashesh Shah is the Chairman and Chief Executive Officer (CEO) of the Edelweiss Group, one of India's leading diversified financial services conglomerates. He is also the co-founder of Edelweiss Financial Services Limited (EFSL). He also delivers many speeches, interviews, and lectures on topics related to financial markets, development, macroeconomic policies and other related matters.
Ahmed El Sheikh, President, PepsiCo India was also a part of the session and he shared how India will be the third most powerful nation in terms of GDP by 2025.
He said that, "The question is not "if", the question is "when"! In the next seven years, India will create funds that took the past 70 years to generate. If we talk about numbers, then today India is worth 2.5 trillion dollars in terms of GDP which will be 5 trillion dollars in the next 7 years."
Ahmed began his career as a sales executive for Cadbury in Egypt, where he rose to the position of Unit Sales Manager within six years. He then held various sales and marketing leadership roles at Johnson & Johnson's Saudi Arabia business for the next decade.
Frederic Widell, MD, Oriflame praised a lot about India's pace of development. He visited India for the first time in 1995 about which he said,
"12 years ago, I lived in India for 3 years and the improvement that I have seen in India is large and enormous. I have seen improvement in infrastructure, E-Commerce across the nation."
An accomplished business leader with 17 years of diversified experience, Fredric has been involved in International Management in Europe and Asia.