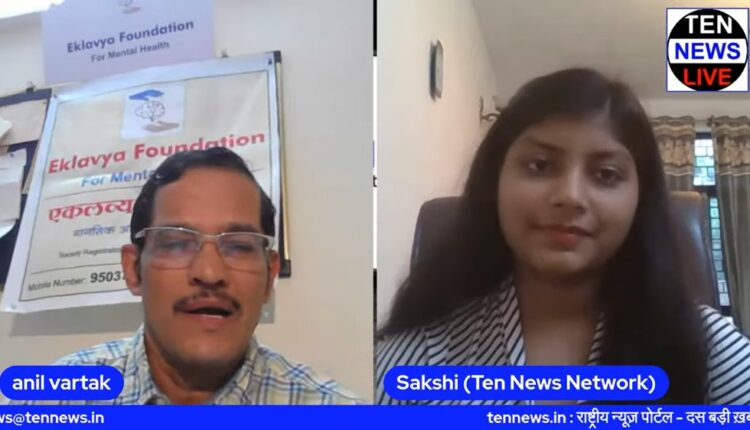 "There is no Health without Mental Health" : Dr. (Prof) Anil Vartak, Mental Health Economist
Ten News Network
Noida, 17th August, 2022: The focus of the TEN NEWS LIVE Special Interview of Dr. (Prof) Anil Vartak (Mental Health Economist) was on the discussion of mental health problems and potential solutions.
Dr. Anil Vartak, Founder and President of the Eklavya Foundation and a Mental Health Economist, shared his authoritative knowledge about the significance mental health illness in society and its recovery process. He also elaborated about his Initiatives taken for such Issues till now.
He discussed about the significance of Mental Health Illness saying that, "We frequently discuss a wide range of issues relating to physical health, other illnesses and their treatments, rehabilitation, and modern technologies, but we hardly ever discuss mental health. I believe this issue is being sidelined in the modern era, but we should talk about it because it is just as important to our body as physical health."
As quoted by WHO (World Health Organization), "Health is not absence of an Illness but it means the physical, Mental and Social wellbeing"
He also stated that, "In today's generation, problems like anxiety, depression, and other common mental health concerns have been on the rise due to the transformation of social and family structures, environmental issues, fierce competition, and modern lifestyle and less physical activities and exercise."
Dr Vartak shared his journey in this domain by stating that "Many people have asked me how I shifted from teaching economics to the subject of mental health but my own experience with mental illness inspired me to enter this less preferred and talked domain ."
"I was fortunate to find a self help group in Pune when I was in the final stages of recovery. This group encouraged me to speak up about such delicate topics as how to ventilate, and I subsequently developed a strong belief in the value of self help groups,"He mentioned.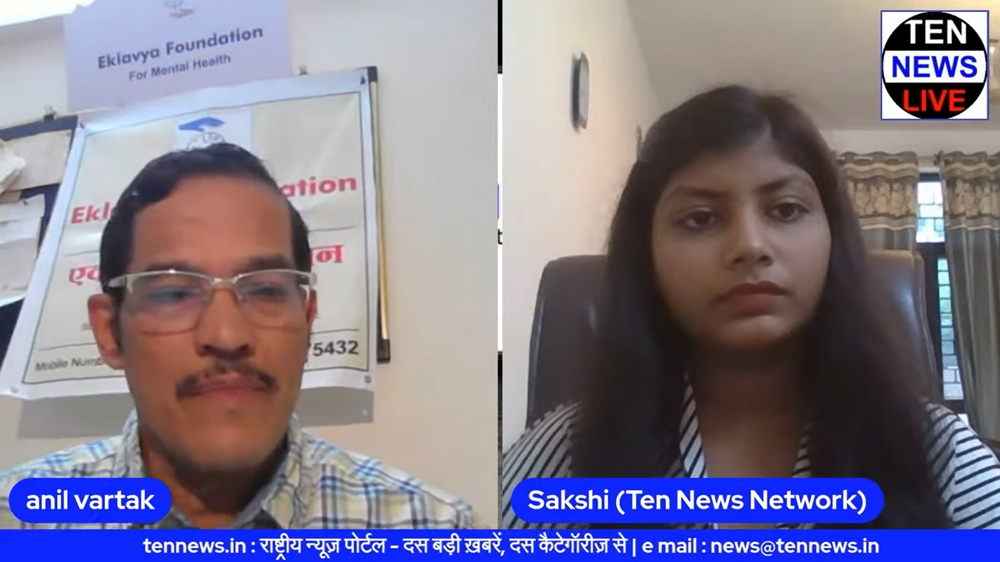 "I came to understand that organizations like Self Help offer the kind of social support that people with mental illnesses need in addition to the medication and counselling that doctors provide."
"I entered this field and became a facilitator after seeing that others needed aid in the same manner that I did throughout my recovery period. Later, I understood that this was a wider area of my work that needed to be done not only in Pune but also throughout India hence I took this initiative to start Eklavya Foundation," He added.
Taking forward to the conversation, Dr. Vartak shared detailed information about his initiative 'Eklavya Foundation' saying that "People typically believe that recovering from mental illness will only be accomplished through medication and counselling advice, which is true, but I believe they should take initiative for themselves and their successful recovery."
"We believe that people with mental illness are not helpless; they can also help themselves and that they should begin, and Eklavya Foundation is one such effort that will give mentally ill individuals a platform to open up about their problems, freely share their stories, and be inspired in a number of ways to help them heal from their trauma.", Dr. Vartak Said.
"WHO have given optimum utilization of mental health services in the form of pyramid where they have given Self care and Informal Care as Important Foundations at the bottom. They have mentioned that these two foundations should be utilized frequently because they are equally significant, effective, and affordable," He added.
Dr. Vartak further talked about their recent initiative by saying, "The Eklavya Foundation just launched the Bahar programme, where we collect data from patients and caregivers. This initiative's goal is to connect them from various locations and make society aware that patients suffering from mental Illness are also capable of writing good poetry and they also have a creative mind."
"Similarly We have many more similar projects, including programmes to eliminate stigma and awareness campaigns, that we will undoubtedly be able to put into action in the future,"He added.
Lastly he also shared the comparison between India and other nations in terms of Mental health by stating that, "In Comparison to other nations, our country's financial and human resources are utterly insufficient, While India spends 1% of its entire budget on mental health, south-east Asian nations like Malaysia, Singapore, Thailand, Sri Lanka, etc. spend significantly more on healthcare."
"In other nations, there are numerous support groups and various self-care and Informal care techniques accessible, giving people a wider range of options and increasing their chances of recovery," He Added.
"It is necessary to establish and grow the informal care network in our nation in order to lessen the loss that individuals or families may suffer," Dr. Vartak Concluded.