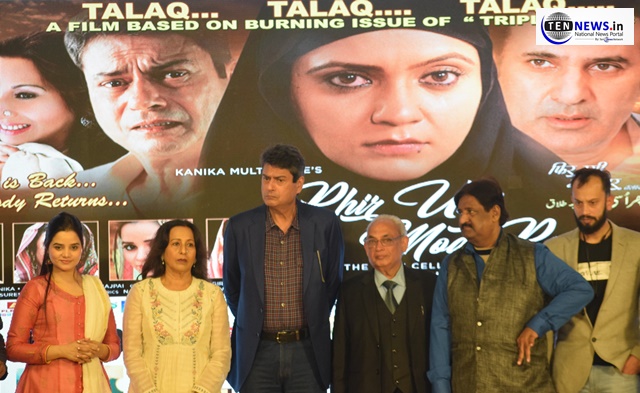 This Women's day, movie based on the impact of Teen Talaq 'Phir Ussi Mod Par' to hit silver screens all over India
Vishal Malhotra/ Rahul Kumar Jha
New Delhi : Women's Day this year shall assume special significance as the last cinematic creation of legendary director Lekh Tandon "Phir Ussi Mod Par.. Talaq" which emphatically espouses the cause of Muslim Women will hit the Silver Screens all over India. It is an avant-garde motion picture based on singularly the most hotly debated topical subject in current times in India, the issue of "Triple Talaq" which features in social and media circles regularly. A tidal wave of public opinion which refuses to ebb.




Today, Movie's producers and actors were all present in Delhi for the promotional event.
Actor Kawaljit Singh plays a crucial and humane role in the film was also present at the promotional event. Movie Producer Bajpai shared how they initially planned to produce a movie that consists of a meaningful message.
His wife Kanika Bajpai is the lead singer in the film and plays a small role in the movie.
Long before the "Triple Talaq" became the flavour of drawing room gossip and the street corner chats "Chai Pe Charcha", Octogenarian veteran Director Lekh Tandon, numerous tele-serials fame had toyed with the idea of making an avant-garde motion picture on the subject and launched the film in the name and style of "Phir Ussi Mod Par (Back to Square One)".