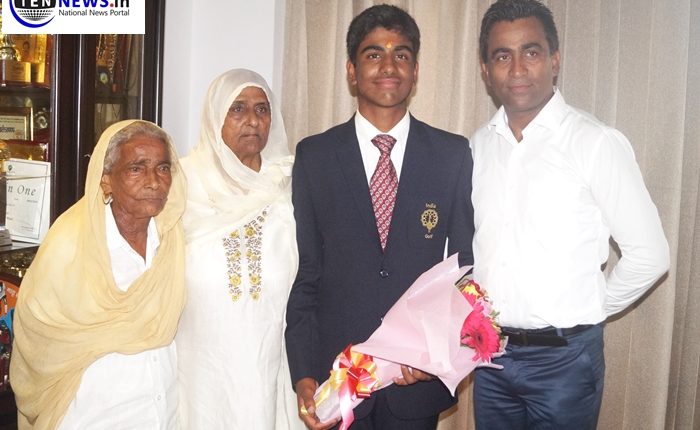 Three-time Junior World Champion Golfer Arjun Bhati Recieves Grand Welcome In His Hometown!
Saurabh Kumar / Baidyanath Halder
Greater Noida (01/08/2019) : Today three-time junior world champion golfer Arjun Bhati recieved a grand welcome on his return to home in Greater Noida after clinching the title of FCG Callaway Junior World Golf Championship 2019. FCG Callaway Junior World Golf Championship was held at Palm Desert, California USA. With this title Arjun becomes the first Indian who has clinched this title.
Large number of social activist, sports enthusiast, relatives and resident of Greater Noida gathered at DND toll plaza for receiving Arjun. From there in an open roof SUV along with the convoy of cars he reached his home in Jaypee Greens. All the family members looked overwhelmed with his success and a festival-like environment was in his home.
Out of 637 golfers from 40 countries that participated in the tournament, Arjun secured the first position with a total of 199 strokes in the three-day final. He was followed by Taiwan's Chen and New Zealand's Joshua Bai at second and third positions with 202 and 207 strokes respectively. With his closing 199, he finished at 17-under-par for three rounds. Arjun also made the best score among the 13-18 age category.
After this Grand victory Ten News exclusively interacted with Arjun, During the conversatation, Arjun said "This tournament was entirely different for me because of the climatic conditions there was different. As you know we were playing in the desert so there is no humidity in the air as it uses to be in Indian conditions. As a player, I learnt a lot which will be beneficial for me in upcoming events."
A student of Greater Valley School, Greater Noida, Arjun further added that "Now I will be focusing on upcoming tournaments but my ultimate goal is to become world number 1 and bag a gold medal for my country in Olympics." Arjun also thanked his school administration for being so supportive to him so he's able to peruse his studies along with sports.
Arjun's father Boby Bhati was also very happy with his son success "Arjun is preparing for this tournament from last four-five months. I was also with Arjun in USA so now all the efforts become worth it with the Title," he said.