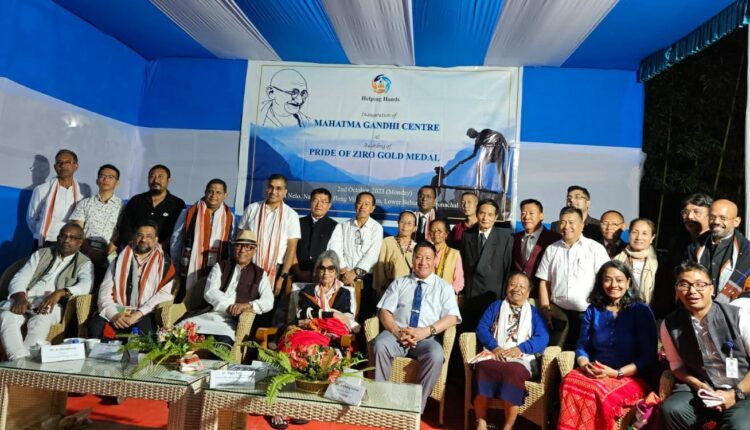 Tireless crusades of Helping Hands NGO mark a new era for North East citizens

By Bipin Sharma (Consulting Editor, Ten News)
Robin Hibu, the first IPS from Arunachal Pradesh and the President of Helping Hands recently realized his dream of making Gandhi Jayanti occasion (2nd October), a truly memorable and historic one for the people of North East with the launch of multiple Citizen Welfare Centres in Ziro, Hong Village, Arunachal Pradesh.
As the founder of Helping Hands (A Charitable & Non Profit NGO working pan India), Hibu had been playing a pivotal role since the inception of his NGO towards empowering the needy with emergency and legal support, addressing the grievances as well as improving the overall living conditions of the North East citizens in whatever way possible, be it in the form of providing them better education and healthcare amenities, educational and sports scholarships, or attending to their distress calls, making them aware about their rights and entitlements, and financially aiding the impoverished segments of the society in helping them perform the last rites of their loved ones through his novel project of "Aakhri Aahuti".
On the momentous occasion of Gandhi Jayanti this year, Helping Hands added another golden feather to their cap as they launched a Mahatma Gandhi Centre in Hong Village, Ziro, Arunachal Pradesh. The Centre is a hub comprising Mahatma Gandhi Library, a Digital Career Guidance Centre, a Children's Activity Centre, a Citizen Service Centre and a Health Clinic. The complex is adorned by a life-size bronze statue of Mahatma Gandhi, majestically watching over the centre. During the course of the event, an exhibition was organised by the National Gandhi Museum, Delhi depicting the "life and works" of Mahatma Gandhi. An award event titled "Pride of Ziro" Gold Medal was also organised to felicitate the prominent social workers who had rendered their invaluable contributions to uplift the people of Ziro and Arunachal.
What made Bapu's 154th Birth Anniversary, on 2nd October, 2023 all the more truly unforgettable was the presence of Smt. Tara Gandhi Bhattacharjee (Gandhiji's Grand-daughter). She flew all the way from Delhi to the remote Hong village in the North-Eastern frontiers of India to specially inaugurate the 'Mahatma Gandhi Centre' at Hong Village, Ziro, Arunachal Pradesh. The grand function was graced by numerous other eminent philanthropists who had in their own distinctive way contributed to the socio-economic development of the people of this region.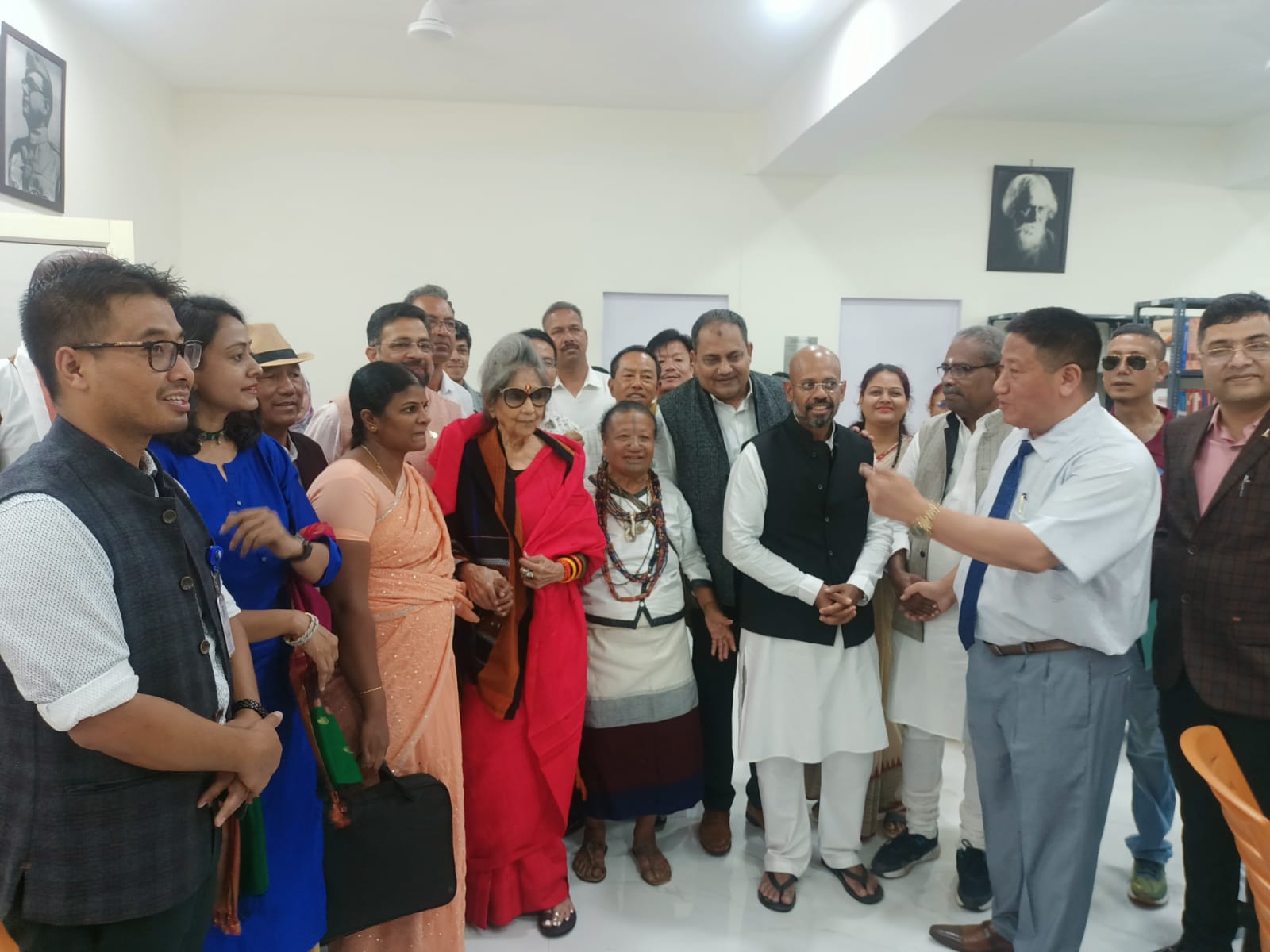 Speaking on the occasion, Smt. Tara Gandhi Bhattacharjee shared, "Bapu once said, 'My life is my message'. In complete sync with what About said, I will add that Bapu's life is indeed a lesson and inspiration for ages and generations to come. Mahatma Gandhi, popularly referred to as the "Father of the Nation" has inspired one and all to dedicate their life selflessly in the service of humanity. A prime instance in this context is the Helping Hands Society that owes its genesis to the teachings and learnings of Bapu. A Pan India NGO, Helping Hands, headquartered at Delhi has been working relentlessly in serving the people in distress, and initiating various socio- developmental projects for the North-Eastern states channelized through selfless individuals working as volunteers. One of the most outstanding officers of the Delhi Police, Robin Hibu has brought laurels to not only his home state Arunachal Pradesh, but to the entire country. It's a matter of immense pride that Robin has been honoured for the second time with the prestigious President of India Distinguish Service Medal. He has made a definitive mark by leading from the front, and meticulously crusading against ending racism. In his previous stint as the Nodal Officer for the North-Eastern community in the Capital, he undertook some splendid initiatives that will always be remembered by countless citizens."
The folks of Hong village extended a warm welcome to the esteemed guests with a traditional dance. The grand celebration of Gandhi Jayanti started with the unveiling of the Mahatma Gandhi Statue by Smt. Tara Gandhi Bhattacharjee and Aditya Ghosh (Entrepreneur & Co-founder, Akasa Air) in the august presence of Tage Taki, Hon'ble Minister of Agriculture & Horticulture, Govt. of Arunachal Pradesh, Bamin Nime, Deputy Commissioner, Ziro, Hage Shalla, IAS (Retd.) President, Tanw Supun Dukun (TSD), Keni Bagra, SP Ziro and other esteemed dignitaries from Delhi amidst mellifluous hymns of 'Raghupati Raghav Raja Ram'. The grandiose life-sized sculpture standing tall over a 5 feet platform located at the heart of the Mahatma Gandhi Centre has been funded through the philanthropic contributions of Aditya Ghosh, Entrepreneur & Co-founder, Akasa Air in the loving memory of his parents. Aditya Ghosh wholeheartedly announced to build a recreation hall, gym & youth creative studio at Mahatma Gandhi Centre.
The centres & facilities launched on 2nd October include Mahatma Gandhi Library (A state-of-the-art library with all modern amenities with a collection of 4000+ books, journals, competitive exam guides, etc. for academic development of the youth). The project has been completed with the CSR contribution from ONGC Ltd. The library will be run by Shikhar Organization represented by Nadeem Akhtar who was also present during the inauguration.
Besides, a Digital Career Guidance Centre was also inaugurated which happens to be an innovative and high-tech career guidance centre for the young and talented aspirants to help provide them guidance in choosing the right career. The centre has been funded by Neha Vats & Gaurav Vats, Pay2ment Software Technologies Pvt. Ltd., Delhi.
Girisha Vats, daughter of Neha & Gaurav extended her gratitude to Helping Hands for constantly motivating in her fight against a deadly cancer disease and extended a contribution of Rs. 50 thousands.
A Children's Activities Centre equipped with latest and attractive amenities and books for children aged 3-12 years has also been dedicated for the local citizens and those from the adjoining villages.
The Activity centre was formally inaugurated by Prof. Rihan Khan Suri, Director, Centre for Innovation & Entrepreneurship, Jamia Millia Islamia, Delhi and Advisor, Helping Hands.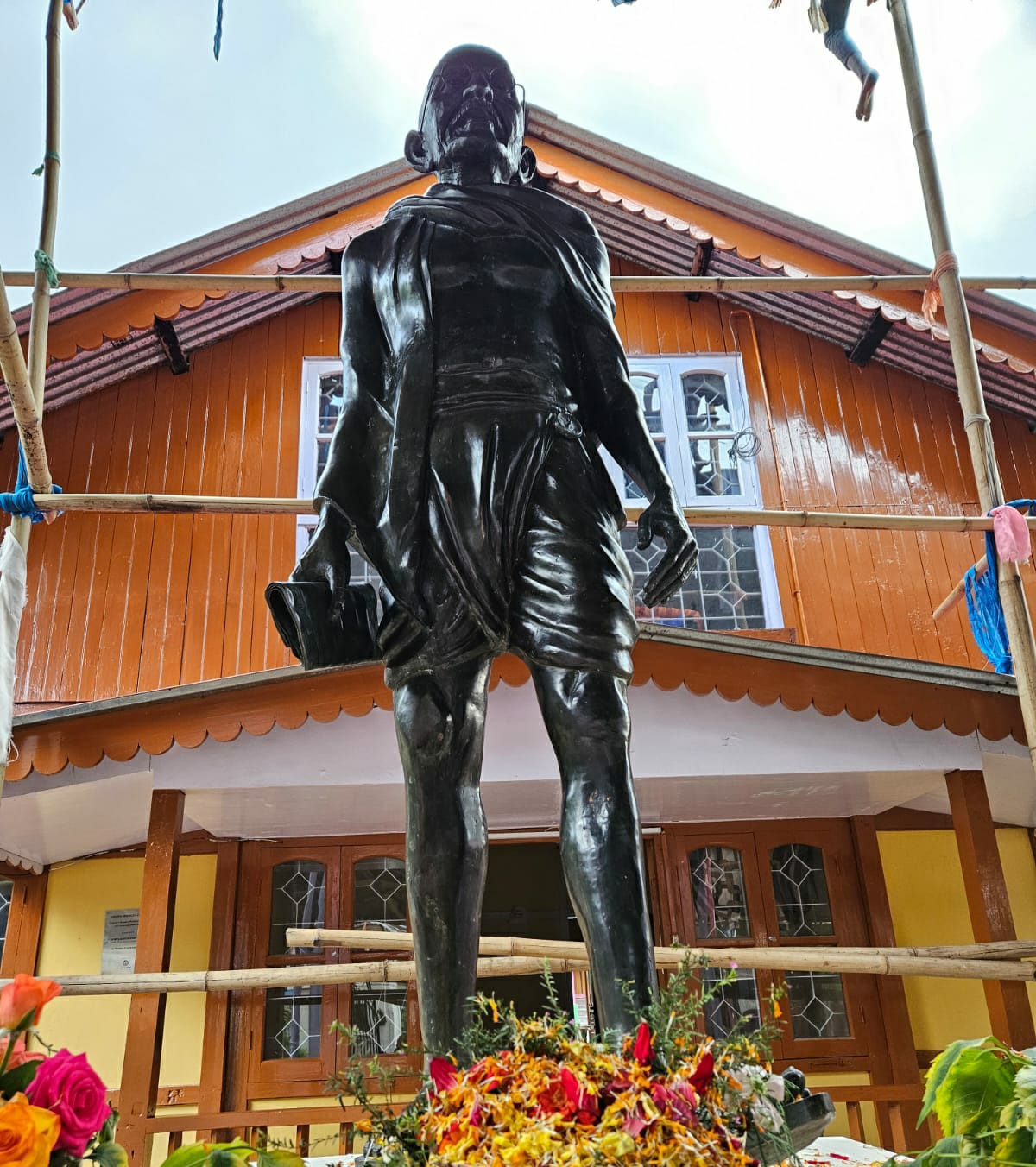 Intrigued by the happy faces of the tribal children, Ms. Archana Sahay, Head CSR, Asia-Pacific, Dell Technologies Inc. who have already funded for two smart screens in the MG Library further presented two laptops for the children and extended her organisation's support to launch a certification program for skilled youth.
This was ensued by the launch of an "Atal Citizen Service Centre" to facilitate the people of the region in receiving an ease of access in applying for various services, both government and private.
This will also be the Grievance Redresal Centre for villagers with computerised monitoring system. Atal Citizen Service Centre will be operated by Northeast Lover's Team. Saurav Malhotra, General Secretary, Divya Sanskriti Charitable Public Trust, Delhi and Phursat Vajpayee, cousin of Late Sh. Atal Bihari Vajpayee Ji announced to provide a complete generator set to power-up the entire Mahatma Gandhi Centre and water tank for the centre.
In addition, a
Farmer's Sales Hub was launched for the North East citizen's which is an agricultural product collection, processing and promotion centre cum sales outlet.
It has been set-up in collaboration with North East Farm Sales Promotion Pvt Ltd for the convenience of the local farmers to sell their products. The centre is designed with modern advanced equipment for collection centre of unsold perishable products of small sellers who grow themselves and belong to the BPL economic category (bamboo shoot, king chilly, herbs, leafy vegetables, lemon etc.) The centre was inaugurated by Tage Taki, Hon'ble Minister of Agriculture & Horticulture, Govt. of AP and Bhanu Pratap Singh, Founder-Director, North East Farm Sales Promotion Pvt. Ltd.
On the occasion, an MOU was exchanged between Helping Hands NGO and NE Farm Sales Promotion Pvt. Ltd. wherein the latter pledged to contribute 1% of its total annual turnover towards "Aakhri Aahuti" Project of Helping Hands, and presented a token cheque of Rs. 50 thousand. It was heart moving to see the 8-year-old son of Bhanu, Master Ishaan Singh donating from his piggy bank for the noble cause of "Aakhri Aahuti Project".
This was followed by a Mahatma Gandhi Exhibition which depicted the "life and works" of Mahatma Gandhi. Organised by the National Gandhi Museum, Delhi, the exhibition was inaugurated by Smt. Tara Gandhi Bhattacharjee and Dr. Annamalai, Director, National Gandhi Museum, Delhi accompanied by Hibu Yasing.
The most awaited moment came when "Pride of Ziro" Gold Medal Award ceremony began. With the objective of acknowledging the tireless contributions of selfless individuals of Ziro towards the people of Ziro and Arunachal, the "Pride of Ziro" Gold Medal Award Ceremony was conceptualized to felicitate the meritorious individuals nominated by the selection committee. The proud Winners of "Pride of Ziro" Gold Medal were
Late Nani Challa (Salah), Hano Bobby, Lod Kojee, Tailyang Shanti, Taku Chatung, Lod Tabyo, Hage Tade, Puna Hinda, Er. Tapi Tai.
Following this, there was the presentation of Administration Excellence Award. Overcoming various Public path barriers, Bamin Nime, APCS, Deputy Commissioner, Lower Subansiri, Ziro had been relentlessly undertaking people centric development initiatives and accomplished them for the benefit of the people of Ziro. For his unparalleled efficiency and contribution in public administration, he was conferred the coveted 'Administration Excellence Award 2023'. Overwhelmed with the selfless services of Helping Hands, he donated 4 books for Mahatma Gandhi Library and Rs. 1 lakh from his salary.
Speaking to the Media, Hibu said, "Heartfelt gratitude for the countless good wishes and prayers that gives me the strength and inspiration to deliver more. It's been an extremely challenging journey so far, and I have no qualms in saying that I have never shied from taking the road less travelled. It really feels good when we get recognized for all our tiny initiatives of wiping tears of NE people spread across various cities. The large gathering of volunteers from different walks of life, special guests and prominent personalities proves that we are all united to ensure the well being of North East people especially students. North East states have significantly contributed in bringing sporting laurels to the nation. 5-time World Amateur Championship winner MC Mary Kom, Mirabai Chanu and Lovelina Borgohain need no introduction. Helping Hands NGO happens to be one of the largest virtual NGO serving the North East fraternity. The idea of "Sports Diet Scholarship" will surely inspire entrepreneurs and corporates to follow in suit. I am pledged to serving the North East People in distress, and empowering them by creating awareness, providing legal-emergency assistance as well as healthcare–education facilities. We have been spreading all round awareness among people about the need to ensure their overall wellbeing, and to shield them from any discrimination. Every member of the society and every state is an integral component of the country, and in the true sense, happens to be the mainstream segment of our country, and the pluralistic society. The seven sister states of the North East being no exception, it thus becomes the duty of every citizen to ensure their safety and security. The sacrifice of Nido Tania who was brutally assaulted and murdered should not go in vain. Let us not forget that the people of North East add distinctive beauty and vibrancy to the country. As a representative of the North East people, I have strived to enrich the NE mosaic culture and heritage in the majestic ambience of the Rashtrapati Bhavan at Raisina Hill. It's an earnest desire to see my North East brothers and sisters play a more substantive role in the country in the coming times. Integration of all states and UTs of the country will play a key role in realizing Prime Minister Narendra Modi's ambitious dream of 'New India'. Having pioneered myriad campaigns against eve teasing and racial discrimination, I have always stressed on the importance of girls being trained in the fundamental self defence skills. I conducted special workshops in martial arts for our cadets and new recruits at the Delhi Police Training College. Being trained in self defence skills is the stepping stone to realizing the larger goal of 'Women empowerment' and 'Total equality'." The inauguration of various Citizen Welfare Centres in Hong Village is a small holistic effort by Helping Hands NGO towards the betterment of the tribal folks dwelling in this remotest region of North-East India in the backdrop of the mighty Himalayan Mountains. The Mahatma Gandhi Centre will serve the people, and bring about phenomenal change in future generations."