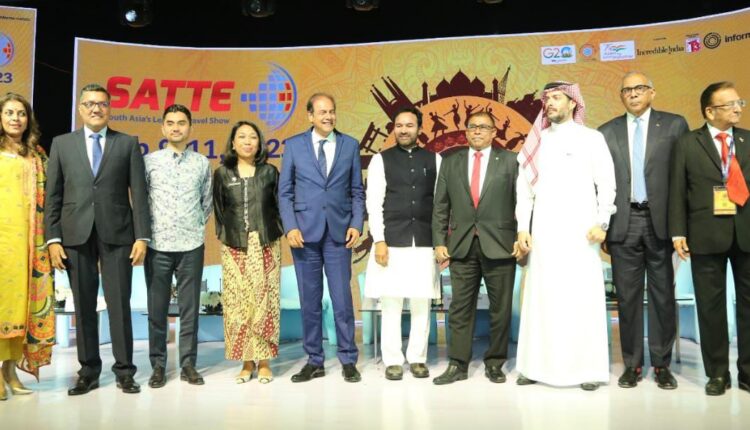 Tourism Minister G Kishan Reddy inaugurates Tourism Fair SATTE 2023 at India Expo Mart
TEN NEWS NETWORK

New Delhi, 09th February 2023: SATTE 2023, organized by Informa Markets in India, has commenced today at the India Expo Mart, Greater Noida, Delhi NCR, with the aim of revitalizing the country's travel industry business. Spanning over three days from Feb 9th-11th, the event has been conceptualized around the theme 'Inclusive and Sustainable Tourism'. SATTE provides a platform for connecting and identifying opportunities in a sector that is projected to reach a market volume of $32 billion by 2027.
The grand inauguration of the expo was held in the presence of esteemed dignitaries namely G. K. Reddy, Minister of Tourism, Govt. of India; Louis Steven Obeegadoo, Deputy Prime Minister, Minister of Housing and Land Use Planning, Minister of Tourism, Govt of Mauritius, Dr. Abdulla Mausoom, Minister of Tourism, Maldives,  Khairul Firdaus Akbar Khan, Deputy Minister of Tourism, Art and Culture, Malaysia, Ni Made Ayu Marthini Deputy Minister, Dept of Tourism, Govt. of Indonesia, Alhasan Ali Aldabbagh, Chief Markets Officer – Asia Pacific, Saudi Tourism Authority, Madhavan Menon, Managing Director, Thomas Cook India Ltd, Subhash Goyal, Member, National Advisory Council, Ministry of Tourism, Govt. of India, Yogesh Mudras, MD, Informa Markets – India and Ms. Pallavi Mehra, Group Director, and Publisher – T3, Informa Markets – India, amongst others.
At the inaugural ceremony, G. K. Reddy, Minister of Tourism, Govt. of India said, "G20 has given us the opportunity to showcase our travel and tourism through multiple events across 56 different countries. Our culture, heritage, food, clothes, thinking, respectability and our "Athiti Devo Bhava" beliefs are what we should put forward for the tourists. We have reached 75% of the tourism we had before Covid-19. I have full belief that we will exceed our foreign tourism levels by December this year and set a record level. Domestic tourism is growing in the same way too which will make tourism a big sector in India. With this growth, India has the potential to be the number one tourist destination among all the countries, provided all stakeholders in the tourism industry work along with the government. The government is also promoting domestic tourism by providing a platform for startups as well as big multinational companies and events like SATTE will certainly give a strong push to this industry."
Louis Steven Obeegadoo, Deputy Prime Minister, Minister of Housing and Land Use Planning, Minister of Tourism, Govt of Mauritius "In the light of the remarkable recovery of tourism, we are looking at 2022 as a great year of recovery and rebuilding of tourism. And I'm convinced that with all stakeholders present here, we are going to make 2023 a great year for travel. Regional tourism is key to recovery of the sector and Mauritius and India have always shared bonds of fraternity. Our purpose of coming here is to ensure that we can convert this special relationship into tourism so that the numbers of Indians crossing the Indian Ocean to the island and the number of Mauritians visiting India keep on increasing to make up for recovery in 2023 and to go far beyond in the years to come. I wish SATTE's 30th edition all the success in building and facilitating contact, business deals and in encouraging partnerships between all citizens."
Alhasan Ali Aldabbagh, Chief Markets Officer – Asia Pacific, Saudi Tourism Authority said, "India is a strategic market for Saudi Arabia. Last year, we welcomed 1 billion visitors from India and are governing visitor count for 2030 too. We are very ambitious for India and will make India the number one source market for Saudi Arabia. We are committed to working with the right partner to grow your business and making Saudi one of the top destinations for India. We are delighted to showcase Saudi Arabia at this prestigious event SATTE 2023."
This year, SATTE celebrated 30 years of glorious existence and is expected to host more than 30,000 attendees. The expo has received widespread acclaim from the industry, including support from various entities such as the Ministry of Tourism, Government of India, Indian and International Tourism Boards, global travel trade bodies, airlines, hotels, wellness resorts, cruises, theme parks, cinema locales, corporate travel, investors, and wedding planners amongst others.
Emphasizing on the role of industry events, Subhash Goyal, Member, National Advisory Council, Ministry of Tourism, Govt. of India, said "India has immense potential and Indians are one of the largest spenders. During this post-pandemic phase, events like SATTE is the need of the hour and provides the boost that the industry calls for. The fact that the government is collaborating with these industry events shows that we are committed to making India the number one tourist destination in the world."
Addressing the opportunities in the sector, Yogesh Mudras, Managing Director, Informa Markets in India, said, "The tourism sector has large potential and holds opportunity to provide 137 million jobs and entrepreneurship prospects. The Government of India has also allocated funds to the tune of Rs 2400 crores in Union Budget 2023 for the development of tourist infrastructure, prioritizing sustainability, aiming for a green economy and net-zero carbon emission by 2070. Promotion of tourism is on a mission mode and SATTE 2023 is anticipated to bring together various tourism stakeholders for the three days and expand tourism in India. The expo will showcase composite tourism products profile of India and global tourism destinations."
SATTE is aligned to the governmental mission. In this context, we are proud to host Shanghai Cooperation Organisation (SCO) Travel Mart by the Ministry of Tourism to celebrate the Chairship of India for 2023 to strengthen tourism exchange amongst SCO nations," he added.
This year's edition is a testimony to the global travel business flourishing in full strength after two years' disruption. Tourism Boards and NTOs such as Saudi Arabia, Dubai, Qatar, South Africa, Mauritius, Seychelles, Turkey, Azerbaijan, South Korea, Maldives, Thailand, Malaysia, Indonesia, Singapore, Hong Kong, Danang Province of Vietnam, Chonburi Provincial of Thailand, Nepal, Sri Lanka, Bhutan, and Bangladesh amongst others have all set up pavilions at SATTE. The expo showcases over 1200 exhibitors, more than 600 hosted international and domestic buyers, and agents/operators/professionals from over 120 Indian cities/towns.
SATTE has effectively raised mass awareness and emphasized the importance of tourism within it. The show has strong participation from Kerala, Chhattisgarh, Andaman & Nicobar, Delhi and Punjab along with the North East states of India as well.
The key private players includes Air India, MakeMyTrip, EaseMyTrip, TBO.com, RezLive, Tripjack, TravClan, Ebix Travels, Akbar Travels, Riya Travel, TravelBullz, My Value Travel, SanKash, Yorker Holidays, Wow Holidays, Rayna Destination Management, Satguru Travel, Fly24hrs, GRNconnect, Stic Travel, Ark Travels, STS World, European Voyages, Royal Thai Vacation, OneAbove, FlyRemit, Salvia Travels, Sarovar Hotels & Resorts, The Fern Hotels & Resorts, Sterling Holidays, Cheval Collection, Suba Hotels, Udaan Hotels & Resorts, Key Resorts International, Uday Samudra Leisure Beach Hotel, Island Holidays, Cruise Carrot and Sri Lankan Airlines. The much-awaited show is patronised and supported by the associations like TAAI, TAFI, IATO, ADTOI, SKAL, ICPB, TOA, UFTAA, NIMA, ABTO, OTOAI, ATOAI, TOFTigers among others.
SATTE is one of the most professional business events offering deep insights on the global tourism market. Another key highlight of SATTE 2023 is the 'Super 30' campaign which included an array of engagements such as, , 'Route 30' (to promote the show in 30 Indian cities) 'SATTE Travel Insight Podcasts' (a Podcast featuring industry leaders), 'SATTE Connect' (10 city roadshow), 'SATTE Awards' (to recognize and reward the innovation and excellence in the industry), and 'GenX 365 Click' (a new age digital portal to bring Buyers and Sellers at one platform to generate business leads) amongst others. A symposium of exhibition, conference and other supporting programs provides a valuable opportunity for the industry leaders to deliberate on the latest trends and opportunities impacting the industry. The three-day conference and buyer seller meets host many government officials, experts and industry associations for the benefit of travel and tourism industry.