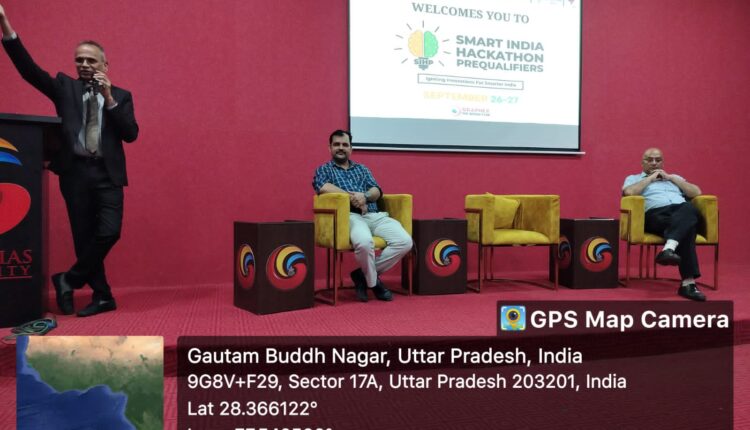 Two-day Smart India Hackathon concluded at Galgotias University
TEN NEWS NETWORK

Smart India Hackathon (SIH) took place at Galgotias University on 26th and 27th September, 2023. Over 100 teams registered for the event. While inaugurating the event, Pro Vice Chancellor Dr. Awadhesh Kumar emphasized on the importance of technological self-reliance for the progress of the country. While Pro-VC highlighted this aspect, the University Registrar, Dr. Nitin Gaur, motivated participants to find real solutions for societal problems.
On the first day, 45 teams were shortlisted for the next round out of the 85 that showcased their projects. The shortlisted teams diligently worked overnight at the campus for completing their projects.
On the second day, 35 teams were selected to compete in the national-level hackathon scheduled for November 2023. A review committee from the University awarded prize money of Rs 5100, Rs 3100, and Rs 2100 for the first three position holders, respectively.
During the closing ceremony on 27th September 2023, the Vice Chancellor, Prof. KM Babu, inspired by the turn-out, requested the organizing committee to host similar events each month and suggested fostering a culture of experiential learning and generating new ideas among the youth.
Prof. Sanjay Goyal, Dean of Computer Science mentioned about the rapidly evolving world in his talk. SIH 2023 President, Dr. Arvind Dagar, expressed gratitude towards the Chancellor Sunil Galgotia, CEO Dr. Dhruv Galgotia, Director of Operations Aradhana Galgotia, and Vice Chancellor Dr. Mallikarjun Babu Kayola for their support in organizing the event.