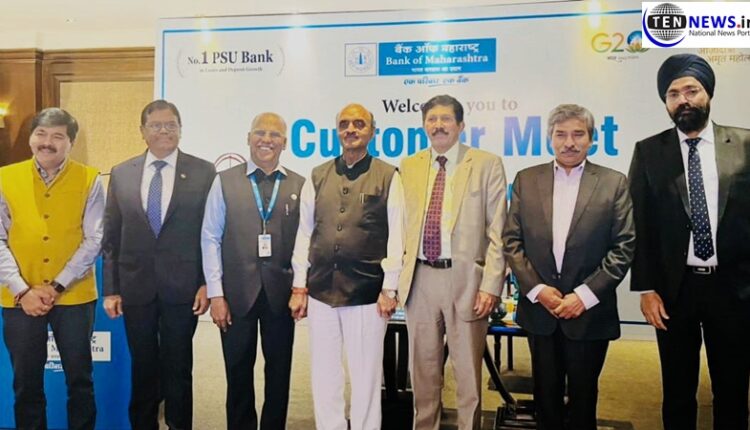 Union MoS Dr. Bhagwat Karad lauds Bank of Maharashtra's commitment to customers, growth trajectory
Ten News Network

New Delhi (India), March 15, 2023: Bank of Maharashtra, a leading public sector bank, organized a Customer Meet program on March 14 at New Delhi. Union Minister of State for Finance, Dr. Bhagwat Kishanrao Karad, graced the event as the chief guest.
The program commenced with the lighting of the ceremonial lamp by the esteemed chief guest Shri A S Rajeev, the Managing Director and CEO of the Bank of Maharashtra, presented a bouquet and shawl to Dr. Karad to welcome him.
Chitra Datar, the Zonal Head of BOM Delhi Zone, extended a warm welcome to the chief guest and the distinguished dignitaries present at the event through her opening remarks. Further, Rajeev Kumar, the Deputy Zonal Manager of the Delhi Zone, gave a digital presentation on the outstanding achievements and the targets set by the Bank of Maharashtra.
Addressing the gathering, Union Minister of State for Finance, Dr. Bhagwat Kishanrao Karad, lauded the remarkable progress of the Bank of Maharashtra, stating that "The Bank of Maharashtra is setting new standards every day". Dr. Karad, who personally witnessed the bank's progress, expressed his confidence in the bank's unwavering commitment towards fulfilling its customers' expectations.
Drawing from his extensive experience of visiting 28 states in India and meeting employees of various banks, Dr. Karad acknowledged the pivotal role played by the Bank of Maharashtra in implementing the Central Government's financial schemes. Being a native of Maharashtra himself, Dr. Karad expressed a fondness for the Bank of Maharashtra and commended its growth trajectory, which has risen from being ranked 11th to the top five in a short span. He expressed optimism that the bank's business would surpass INR 5 lakh crores by 2024, which would positively impact its employees.
Dr. Karad emphasized the importance of fostering strong relationships between bank employees and customers. He reiterated that "customers are like God" and urged bank employees to treat them as partners. Dr. Karad also called for expanding the reach of the Kisan Credit Card Scheme to more farmers and encouraging the Bank of Maharashtra to provide them with credit cards.
Overall, the event was a grand success, and the presence of Executive Director and other directors , esteemed Govt customers and High Net Customers only added to the bank's reputation as a trustworthy financial institution.
Bank of Maharashtra Organises Customer Meet | Dr. Bhagwat Karad, Union MoS Finance, Chief Guest | Photo Highlights