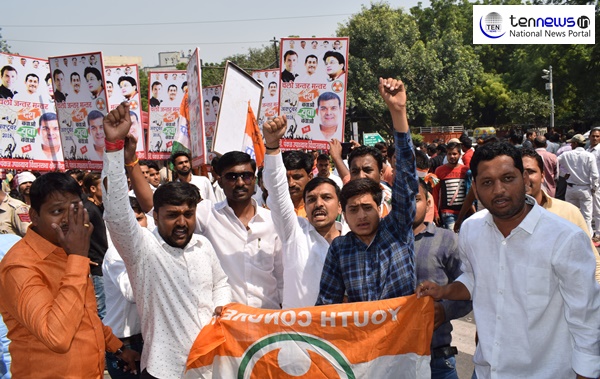 New Delhi: On Monday, United Youth Front Opposition parties' youth wing, in coordination with Indian Youth Congress organised a massive national protest rally "Desh Bachao, Yuva Bachao" against the BJP led NDA. Thousands of Youth were on Road protesting against the issue of Burning Fuel Hike, Rafael Scam and Unemployment.
Youth wing organisations of 14 national and regional political parties, including representatives from Congress, RJD, CPI, CPM conducted the march against Modi Government policies at Mandi house, Marking the beginning of the nation wide campaign 'Desh Bachao, Yuva Bachao'.
Speaking to Ten News, Youth Wing leaders said,
"There is an increase in unemployment and there is massive interference by the government in universities and colleges across the country. Vyapam scam, SSC scam nothing has happened so far. So we will all gather at Mandi House and will march all the way to Parliament Street to hold a public rally."
They further said, "Modi ji promised to give 200 million jobs every year from youth but today It is a grave tragedy, that the rate of unemployment in India is highest in 20 years. How can the youth of India be the leaders of tomorrow with such a challenge in front of us? We need an answer.Where are those 2 crores jobs, Mr Modi?".
Speaking about the Farmers Right, Youth Wing Leaders collectively said, "What an irony, Violence on kisans on International Non-Violence Day, this act should haunt Mr Modi govt for decades, let's join hands to show this government the strength of youth, let's be the voice of these farmers who are protesting for their rights."