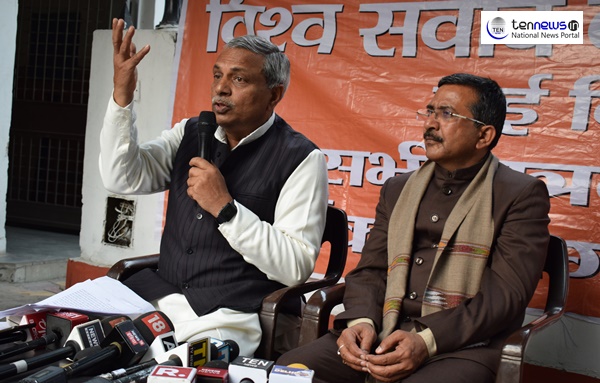 New Delhi:(05/02/2019) The Vishva Hindu Parishad (VHP) held a two-day grand Dharma Sansad at Prayagraj's Kumbh Mela last week which was attended by more than 5,000 seers and saints from across the country. The seers and saints m deliberated upon methods to expedite the construction of the Ram temple in Ayodhya.
On Tuesday, Dr.Surendra Jain, Joint Genral Secretary, Vishva Hindu Parishad
addressing the press conference conveyed the Decisions taken in Dharma Sansad in PrayagRaj especially on Ram Bhoomi.
Addressing the Media, he said,
"we don't want to make Ram Mandir a chunavi mudda What the people decide we don't know. But we're sure that whoever is in power, whichever party forms the government, they will listen to our demand of making a Ram Temple at Ayodhya."
He further said, "Only the RSS, VHP, central unit of saints and Dharm Sansad can build the Ram temple. The rest can say anything on the issue, but the temple will be built by these organisations only. We want BJP to make Ram Mandir because they are Ram Devotees."