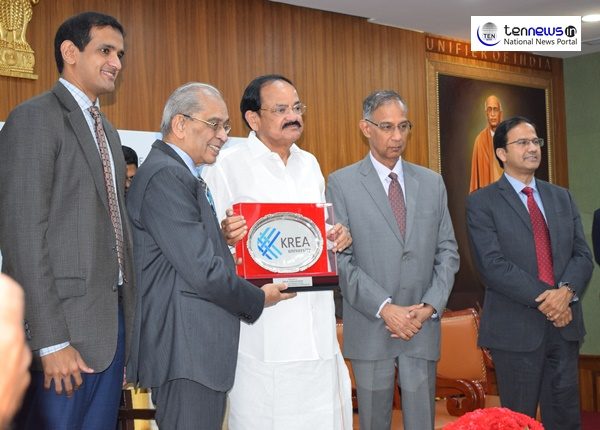 New Delhi: Krea University, backed by some of the best academics in the world and the top industrialists in India, was inaugurated by the Vice President of India, Venkaiah Naidu in New Delhi today.
Based in Sri City near Chennai, Krea University offers BA (Hons) & BSc (Hons) degrees in a host of disciplines ranging from economics to computer science. The University has opened its admissions process for the first cohort of undergraduate students who commence classes in August 2019.
Krea University also brings a fundamentally different approach to higher education by Interwoven Learning which brings together thought with action, arts with sciences, and the learning's of the past with preparedness for the future. Krea's curriculum contains modules intended to instill in its graduates a sense of purpose, an appreciation for the societal impact of their actions, as well as a moral compass that keeps them steadfast as they navigate the complexities of the 21st century.
Speaking on the occasion, Vice President of India, Venkaiah Naidu said,
"Today i'm extremely happy to be here with all of you at the launch of krea University. As i have said in numerous occasions that India can't be mediocre. Excellence should be our mantra. Universities like Krea will help us to achieve excellence. I think Krea should be deeply committed to inclusivity and should follow a need blind admissions process backed by a generous scholarship programme for students in need of financial support."
Krea University's Vice Chancellor Dr. Sunder Ramaswamy said 'Krea University's BA (Hons) and BSC (Hons) are truly unique, as the core curriculum provides an inter-disciplinary foundation before students specialize in a one discipline of their choice. There is also a strong real life element woven Into the curriculum, with real-world immersions where students learn by doing".