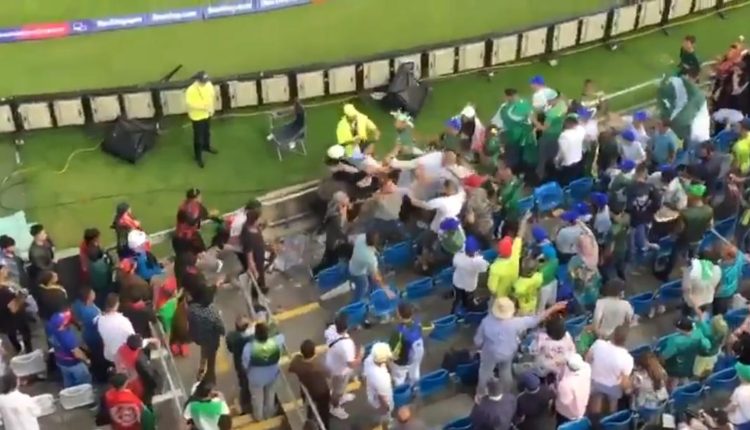 Violent clash between Afghans and Pakistanis triggered by an airplane towing the message "Justice for Balochistan."
Prerit Chauhan (Photo-Video) Lokesh Goswami Tennews New Delhi :
A violent clash between Afghanistan amd Pakistani Cricket Fans outside the Headingley cricket stadium appeared to be triggered by an airplane towing the message "Justice for Balochistan."
As per reports, a plane was flown which had Balochistan slogans. The security personnel quickly evicted unruly fans from the stands. Several videos of the incident were posted on Twitter.
On the matter The International Cricket Council has said it will take action against any fans involved in "scuffles" before the Cricket World Cup match between Pakistan and Afghanistan at Headingley on Saturday.
Videos shared on social media showed supporters of both countries fighting outside the venue and security personnel being forced to intervene, while ESPNcricinfo reported that at least two fans had been evicted from the ground.
With fans of both the countries getting involved in confrontation, Pakistan Batsman Imad Wasim appealed for better behaviour.
"We are Muslim brothers and we should not be fighting. I request them to behave properly during a match,"
Where, Afghanistan skipper Gulbadin Naib issued a plea to supporters after his team's three-wicket defeat by Pakistan at the World Cup on Saturday was marred by clashes in the stands and outside the stadium.
"To all the audiences watching these kinds of matches, this is only a cricket game. Just watch the cricket game. It's a sport," said Nabi.