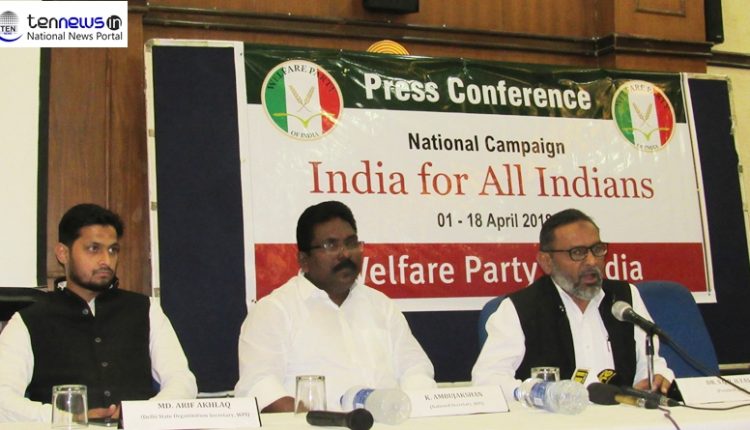 New Delhi: Jolted with the recent intolerance waves, alleged attacks against Muslims and dalits, communal disturbances and questionable performance of BJP-led NDA government on employment, corruption cases, Welfare Party of India (WPI) is going to launch nation-wide agitation from April 1, 2018, National president of the party SQR Ilyas said on Friday during a press conference in New Delhi.
While speaking in the event National president of WPI SQR Ilyas said, "Intolerance has gone to that extent that even cultural activists are not spared for opening their hearts. If you dare to open then be ready to face the fate of Kalburgi, Govind Pansare or of Gauri Lankesh. People being killed due to their eating habits, 30 people killed in the name of cow protection, couples were being threatened in the name of Love Jihad. What is going on in this country?"
"An atmosphere of fear was created that Muslims began to feel that they are not really counted as Indians. It is here we have to say with assertion that 'India is for all Indians'," he added.
In addition to this National Secretary of WPI K Ambuiakshan said, "We have recently seen universities like JNU, HGU, Jadavpur and various centres of higher studies in arts have tremendous contribution in shaping idea and new thoughts is being targeted. And BJP is deputing VCs on the basis of RSS connection not on their qualification. If such things continues, soon our country will fall apart."