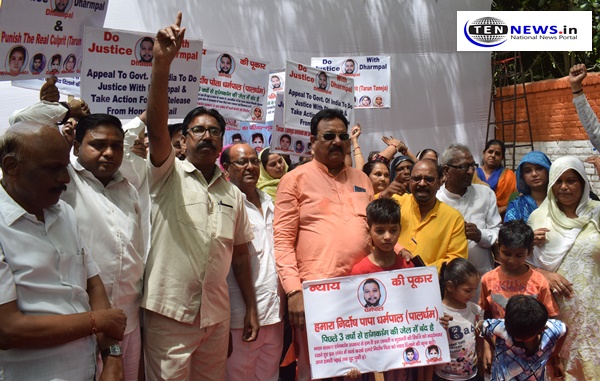 Went to Hong Kong for a job, arrested in possession of drugs; Family accuses travel agent of cheat
New Delhi, (7/5/2019): Jantar Mantar in New Delhi is known to be a place where people from all across the country gather to protest and demand from the government which were not listened by any responsible authority.
Today, a woman with her family members and her children gathered at the Jantar Mantar to raise the issue of her husband's arrest in Hong Kong. She was accompanied with her neighbours and some supporters also.
According to the woman she is a resident of Raghubir Nagar in New Delhi and her husband, Dharampal was an e-rikshaw driver. She alleges that Dharampal was given an opportunity in 2016 to go abroad and work by a person named Tarun Taneja, who is a resident of Rohtak in Haryana.
The woman said, "Tarun Taneja took my husband to Hong Kong telling him that he will get a job there. He also went to Hong Kong with him. After reaching the Hong Kong airport Tanuj handed his bag to my husband and asked him to go for security check while he goes for toilet".
"When my husband crossed the security check he was stopped by the custom officers and later they found drugs in the bag which Tanuj handed to my husband. When my husband insisted that the bag is not of him the custom officials then arrested Tanuj also. But somehow he got escaped with some money and support".
"Since then he was in the jail of Hong Kong and we have tried every aspect to get him out of the jail but without any support or money we are not able to get him out of the jail. My husband was the only source of income and now i am not able to give fees of my children's school".
We demand our Foreign Minister Sushma Swaraj to look into the matter and contact the Hong Kong government in this regard. Since Hong Kong govt. will hear his plea for the last time on 17/5/2019, so we want our government to look in this matter as soon as possible".