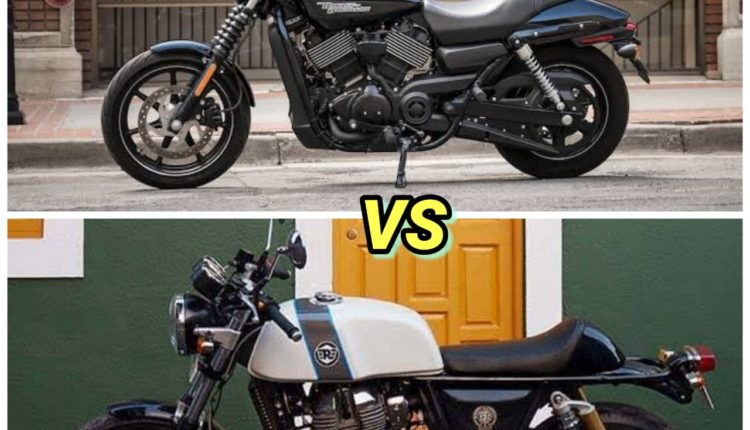 Why You Should Buy Royal Enfield 650 Twins Instead Of Harley-Davidson Street 750
Yetnesh Dubey
Greater Noida (31/12/18) : Royal Enfield recently launched their new flagship models, the Interceptor 650 and the Continental GT 650. Both bikes are priced under Rs. 3 lakh (ex-showroom), and offer unmatched performance for their price range. Due to Royal Enfield's aggressive pricing strategy, foreign companies like Harley-Davidson and Triumph are starting to feel the heat. So to clear the air once and for all, today we will be comparing the entry-level Harley Davidson Street 750 and the Royal Enfield 650 Twins, to see which one is the right choice for you.
Pricing
Right off the start, you can easily see that the Royal Enfield 650 Twins are priced very low as compared to the Street 750. The Royal Enfield 650 Interceptor has a starting price range of Rs. 2.50 lakh while the Royal Enfield Continental GT is priced at Rs. 2. 65 lakh. However, even the entry-level Harley-Davidson has been priced at Rs. 4.60 lakh (ex-showroom Delhi), which is very expensive.
Performance
When it comes to performance, motorcycles of both companies are pretty neck to neck. Harley-Davidson produces around 57 HP @7955 RPM while both Royal Enfield motorcycles produce 47 HP @7100 RPM. Street 750 surely makes 10 HP more than the 650 twins but it is also heavier in terms of weight. The weight of the Harley-Davidson is 233 kg while the Royal Enfield twins weigh around 200 kg.
Maintenance and service network
Royal Enfield is an established brand in India. They have widespread service stations located across the country. While the showroom of Harley-Davidson is only present in big metropolitan cities such as Gurugram, Mumbai etc.
Easy to modify
The Royal Enfield 650 twins are based on an easy to modify platform. The price of the after-market parts for the Royal Enfield motorcycles is relatively cheap and they're plenty in number. On the other hand, the Harley-Davidson is relatively difficult to modify due to its expensive parts.
These points make the Royal Enfield 650 twins, a better choice instead of the Harley-Davidson Street 750.