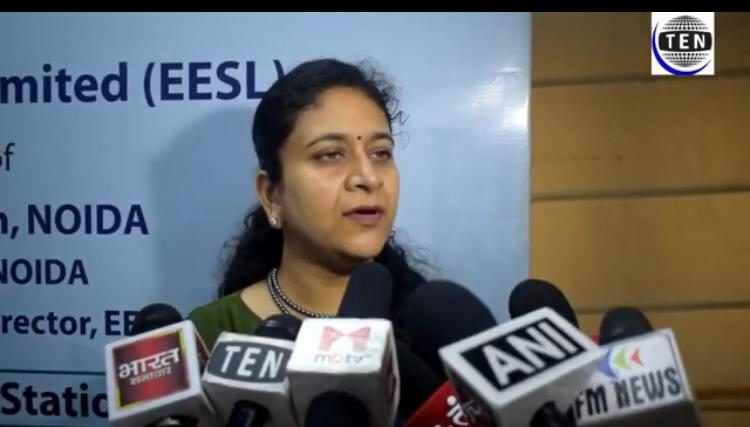 Within 10 days of taking charge as Noida CEO, Ritu Maheshwari infuses new hope in citizens with SM outreach, field visits
TEN NEWS
Noida Authority's incumbent CEO Ritu Maheshwari took charge of this new post on July 15 and since after her continued monitoring of issues being raised on social media and surprise field visits have infuses a new hope in the citizens of Noida.
Maheshwari who have had long experience of working at the helm of affairs in neighbouring Ghaziabad was indeed very well versed with issues being faced by Noida even before she joined the post here.
//www.youtube.com/watch?v=jRd0tPes2n4&feature=youtu.be
Her clear understanding of challenges and the path ahead reflected in her first media interaction, where she took over a dozen questions and gave a road map on her approach towards many.
Cleanliness, garbage disposal, recovery of pending dues, builder-buyer issues were some of the subjects that she touched upon during her first day in the authority.



Noida CEO spoke about need of weekly monitoring meetings and expressed her desire to hold them regularly.
She was also very prompt to make field visits to inspect pending projects and drain cleaning drives.
However, what impressed many Noida citizens the most was her proactive approach towards issues being raised on social media.
Noida, being a city with high literacy rate has large number of citizens who take to Twitter to share their problems concerning city. CEO Maheshwari opened a dedicated twitter account and not only acknowledged many such issues but also got them resolved and posted pictures of the same.
With such unparalleled access to the top of Noida Authority, many citizens believed that with time things would become much better in terms of cleanliness, pollution and public works.
Within a fortnight of debuting on social media, Noida CEO official account has nearly 1450 followers and is regularly posting updates of ongoing work.
Her decisions of imposing fine on non performing agencies, penalizing big violators of environmental rules and making surprise inspection of sanitation workers attendance garnered appreciation by Noida citizens, who after paying high taxes expect better services by the ruling body of the city.
From making street lights work to getting an area cleaned, only based on reports received on twitter had made people believe in the power of public friendly governance and it's large positive impact.
IAS Maheshwari however still has many challenges facing her stint. The issue of builder buyer, waste disposal and shrinking land bank of Noida Authority would still require more efforts.
It is indeed safe to say that both Group housing department and health and sanitation department would be requiring special focus to get things more structured and organised in coming times.
If the first 10 days of Ritu Maheshwari is anything to go by, the city is certainly set to get good and better in the coming days.