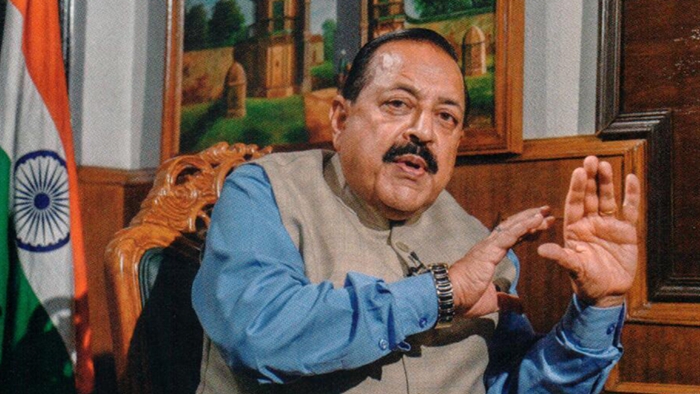 World today looks up to India as an equal partner, says Dr Jitendra Singh
Ten News Network

New Delhi (09/09/2023): World today looks up to India as an equal partner in international collaboration of every nature, said Dr Jitendra Singh, Union Minister of State (Independent Charge) Science & Technology; MoS PMO, Personnel, Public Grievances, Pensions, Space and Atomic Energy.
Prime Minister Narendra Modi is today the world's senior-most Head of State and is looked up to with reverence by every other Head of State, he added.
In an exclusive interview to a leading national periodical, Dr Jitendra Singh said, "We now have a collaboration with most of the countries. The best part of the collaboration with Russia and America is that we are no longer the lesser cousins. We are now equal partners and, in many ways, more than equal. For example, in the Space sector, we are lending our services to America and Russia…we have already earned more than $170 million and more than 250 million Euros. We now do $8 billion (Rs 66,000 crore) of Space business. But at the pace we are rising, India could go up to $40 billion (Rs 3.3 lakh crore) by 2040, while a recent international report, the ADL report, states that we could even go up to $100 billion," he said.
Across the world, the entire growth from now onwards is going to be largely technology driven, said Dr Jitendra Singh and added, this was evident from the fact that during PM Modi's recent US visit, most of the bilateral agreements were based on science and innovation.
Dr Jitendra Singh said, India's first human Space flight mission 'Gaganyaan' is the next big project before ISRO.
"Work is going on feverishly in its various laboratories across the country to realise ISRO's most ambitious mission yet: putting three Indian astronauts into orbit by indigenously building a 'human-rated' rocket launcher and crew module to fly them into space and bring them safely back to Earth," he said.
Three Indian Air Force pilots are undergoing rigorous training for being rocketed into space at 10 times the speed of sound and then living in zero gravity conditions.
Only three nations, – the US, Russia and China – have sent up their own manned missions to Space so far.
Dr Jitendra Singh termed PM Modi's decision in 2020 to open the space sector for private industry to manufacture rockets and satellites, instead of just ISRO, as a "game changer."
"Time and again one thing is proven, there is no dearth of talent in India. We have talent, we have calibre and competence…. For too long, we unnecessarily had a veil of secrecy and confined ourselves to ISRO," he said.
"Apart from Aditya-L1, Gaganyaan and Venus orbiter, we are going to have a huge number of launches from the private sector. This also happened after the Prime Minister took the courageous decision to completely open up the Space sector to private players. As a result, there is a quantum jump in our space missions," he added.
Dr Jitendra Singh said the process of synergy is happening, and in just three years, we have more than 150 private Startups in the Space sector. The demarcation between the public and private sectors is being dismantled and it will be a totally integrated approach, he said.
"It is very progressive thinking because from now onwards, if we have to move ahead, we have to move ahead wholesomely and holistically. We cannot depend on government resources alone. If we have to visualise a global role for ourselves, then we have to live up to global parameters with a global strategy. That is what Americans are doing; NASA is no longer depending on government resources," he said.
Dr Jitendra Singh said the 'Anusandhan National Research Foundation' (NRF), set up by an Act passed during the last Monsoon session of Parliament, aims at equitable funding and democratisation of resources in research and academics..
"Now, in addition to the private industry investment, we have this whole ecosystem that includes the legislation, which allocates Rs 50,000 crore to be spent, with Rs 36,000 crore coming from the non-governmental sector," he said.