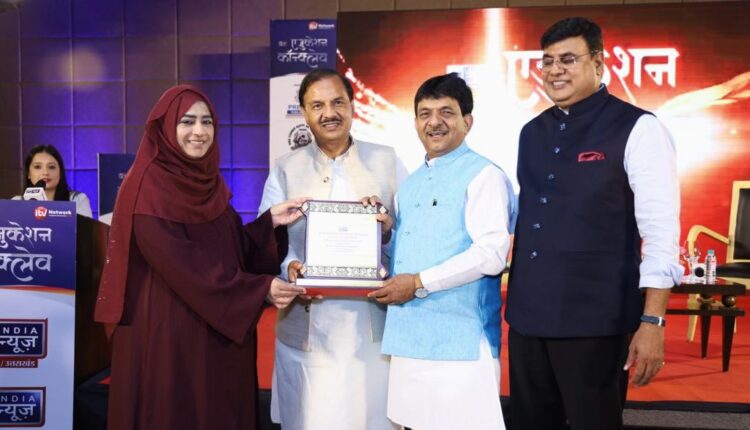 India News National TV Channel Spearheads "Education Conclave 2023" at Radisson Blu Noida

New Delhi 09.09.2023 : In a remarkable gathering of educational visionaries and advocates, the Education Conclave 2023 took place at the Radisson Blu Noida. The Conclave, organized by ITV Network's India News National Television Channel, brought together prominent figures from the education and political spheres.
Notably, the Guest of Honour was Nowhera Shaik, the dynamic leader and National President of the All India Mahila Empowerment Party.
During her address at the Conclave, Dr Nowhera Shaik delivered a powerful message to women, emphasizing their strength and resilience. She asserted, "If a woman is strong, she can face a thousand men. Whatever a man can do, women can do the same. We can confront anyone without relying on power or money." Shaik also bravely expressed her determination to stand up against pressure from certain Muslim politicians, highlighting her commitment to fighting against all odds.
A significant moment of unity arose when Shaik welcomed Prime Minister Narendra Modi's recent announcement of the government's goal to create two crore "Lakhpati didis" (wealthy sisters) in villages across India. The Prime Minister's focus on empowering women was evident as he acknowledged their excellence in STEM education, particularly in comparison to their male counterparts.
Shaik's All India Mahila Empowerment Party and her Heera Group have already initiated various schemes and programs aimed at empowering women, aligning with the government's vision. Shaik expressed her readiness to collaborate with the government to make this vision a reality.
Among the distinguished attendees was Dr. Mahesh Sharma, a Member of Parliament from the Gautam Buddh Nagar constituency and a prominent physician who owns the Kailash Group of Hospitals based in Noida. Dr. Sharma has made significant contributions to culture, tourism, and civil aviation during his political career.
Another notable presence was Laxmi Singh, a 2000 batch IPS officer of the Uttar Pradesh cadre. She currently serves as the Inspector General (IG) of UP police and achieved the historic milestone of becoming the first woman police commissioner of Uttar Pradesh on November 28, 2022.
The Education Conclave 2023 not only celebrated the achievements and contributions of these remarkable individuals but also highlighted the collective commitment to women's empowerment and education in India. The event served as a testament to the nation's unwavering dedication to fostering a more inclusive and prosperous future.