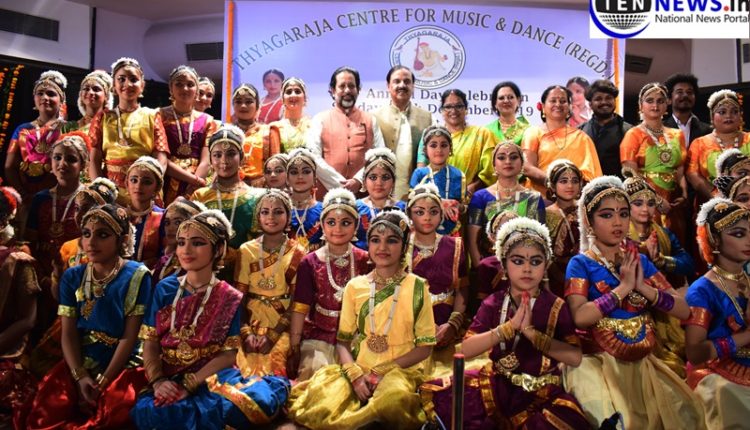 Young artists of Thyagaraja Centre for Music and Dance. enthralled the music lovers
Saurabh Kumar/Lokesh Goswami Tennews New Delhi :
Noida (9/12/2019) : Thyagaraja Centre for Music and Dance celebrated its 24th annual day on Sunday with great zeal and enthusiasm. The event witnessed mesmerizing Bharatanatyam and classical dance performances by the students of the premier institute of performing arts in Noida.
The event was graced by MP and Ex Union minister Dr Mahesh Sharma as the chief guest for the event. He was welcomed by director of Thyagaraja Center for Music & Dance Director Rajeswari Thyagarajan and Guru R V Thyagarajan.
Apart form them prominent personalities like Anu Sinha , Kathak Exponent ; Founder Ten News Network Gajanan Mali; Harinder Chhbara, Director , Infinity School and Shameem Anwar , Associate Director GIP mall Noida were present to inspire and motivate the young artists .
Student of Thyagaraja Center for Music & Dance presented classical dance performances which was largely applauded by the elite classical music lovers . All the special guests were also honoured by Guru R V Thyagarajan for their exemplary contribution in classical dance and social service .
Speaking at the event Dr Mahesh Sharma praised the efforts made by the Institute for conserving the rich heritage of art and culture. He said " In country where, after every 100 km language, tradition culture and customs get changed, what is the thing which is keeping a country of 130 crore population united. This is our culture and tradition. The world is amazed that how three generations are living under a same roof."
Rajeswari Thyagarajan recalling her initial days when they started the Institute said " It was a tough decision for us to give up our job and start something like this. But now we find it a right decision as the Noida has given us much more what we had expected.I would like to thank everyone for the support and hope we will keep getting the same in the years to come ."
Thyagaraja Centre for Music and Dance is a premier Performing arts Institute based in Noida since past 24 years . The Institute is affiliated to Prayaga Sangit Samiti Allahabad Uttar Pradesh India. It conducts Degree and Diploma Courses in Indian Classical Dance and Music and has produced many prominent artists.
"Young scholars and artist presented mesmerising performance . The fine tuning of the dancing steps to the music , vibrant and perfect costume , adoption of traditional Indian culture , disciplined artists were some of the special features of this Indian classical music feast . I complement the TCMD for entering in silver jubilee ", Gajanan Mali , Founder, Ten News Network , who was present in the program from lightning of the lamp to Guru Pranaam.
Photo Highlights of 24th annual day celebrations of Thyagaraja center for music and dance