Ace Tennis Stars Sania Mirza Visits Supertech Sports Village Grooms 500 Tennis Aspirants
ROHIT SHARMA / ASHISH KEDIA
(04/02/18) GREATER NOIDA :–
World famous Tennis player Sania Mirza today endorsed Supertech Sports Village by Supertech, the leading real estate developer at Greater NOIDA. The project is located at the Sector-27, Knowledge Park at Greater NOIDA (West). It is a first housing project of India where 70%
area is reserved for sports activity and balance 30% for villa and apartments.
The ace tennis star visited the Sports Village and met with over 500 tennis aspirants from the region
She further offered grooming tips and tricks to these budding tennis players. Almost 500 players registered and
participated in the sporting event and got a chance to play across and trained under Sania Mirza leadership.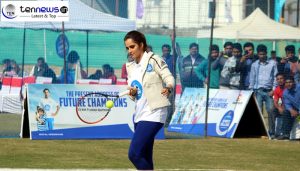 Announcing the engagement, Sania Mirza, tennis player said "I am happy to be associated with Supertech for this initiative of bring health and wellness through sports to the region. This will also help and enable sports aspirants with a platform to undertake world-class training and pursue career in various sports that the Sports Village offers as the institute taps the latent talent in neighbourhood region. Such initiatives
from industry players in every region are a step further in line with the government's mission on making the
country a Sports Superpower and will go a long way in developing the field of sports in the country".
R.K.Arora, Chairman, Supertech, said, "It is a great honour to have an association with eminent Indian tennis player Sania Mirza. Endorsement of the Sports Village from an international sports personalist
of her stature is a testament of our endeavour to provide best in class infrastructure, greatest of the living
spaces, and best of guidance to these aspirants. We wish that this infrastructure will help hundreds of sports aspirants to practice and excel into future sporting stars."
The Sports Village by Supertech has existing partnerships with sports stars to open up academies of different
sports in the project, namely Tennis Academy by Sania Mirza, Cricket Academy by Shikhar Dhawan, Golf
Academy by Jyoti Randhawa, Guns of Glory by Gagan Narang and the Badminton academy. It is being said that these leading sportsmen will lend their expertise through periodical visits to the academies to train the sports aspirants
living in the region.
The Sports Village by Supertech is a part of an integrated development spread across 175 acres of land. It is
a first housing project of India where 70% area is reserved for sports activity and balance 30% for villa and
apartments.
Ironically this celebrity endorsement came for Supertech on a day when hundreds of investors from its another project were protesting in a distant part of district alleging injustice in sealing of flats developed by Supertech in its Czar project.