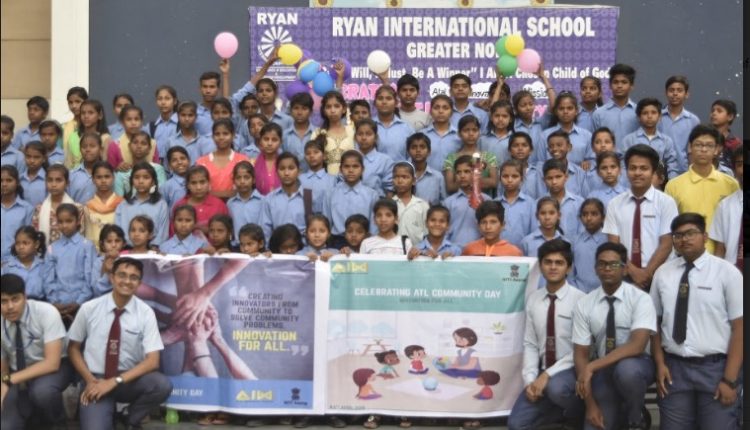 ATL COMMUNITY DAY CELEBRATED AT RYAN TO MARK AMBEDKAR JAYANTI.
Ryan International School, Greater Noida Celebrated ATL Community Day on 13th  April 2018 to mark Ambedkar Jayanti. Around 100 unpriveledged students of NGO – Vikash Vishranti were active participant of this celebration along with the students of Ryan  Greater Noida. The ATL club members and the science teachers had initiated a workshop on ' Design thinking' and' Do it yourself (DIY) activities'. The students shared their ideas and worked together to create something innovative.
The workshop started with a welcome speech, prayer and briefing about the session. The students were divided into two major groups and the each group was subdivided into five small groups.  They were taken to mechanical work station, 3D printer and prototype, drilling workstation, electronic work station. One of the major groups was taken to ATL lab, there they visited the various work stations and had hands on experience. The students of Ryan Greater Noida, demonstrated the innovative ideas to solve the community challenges usingRobotics and Autonomous car using Lego kit. The students were allowed to identify and define the problems and based on that, prototypes of the solutions were prepared.
The second major group was also divided into five small groups. Each small group along with the teacher in charge created wonderful models. The students created a huge  tower  with balloons and scrap, cardboard shelves, bridge with newspaper, magical shoe ( with colour changing according to attire and obstacle detection properties), flower vase and other decorative materials with waste items.
It was an enriching session in which the children from NGO shared and learnt innovative ideas and got a support system from Ryan students. The students of Ryan Greater Noida learnt their social responsibilities and worked for the development of the society.