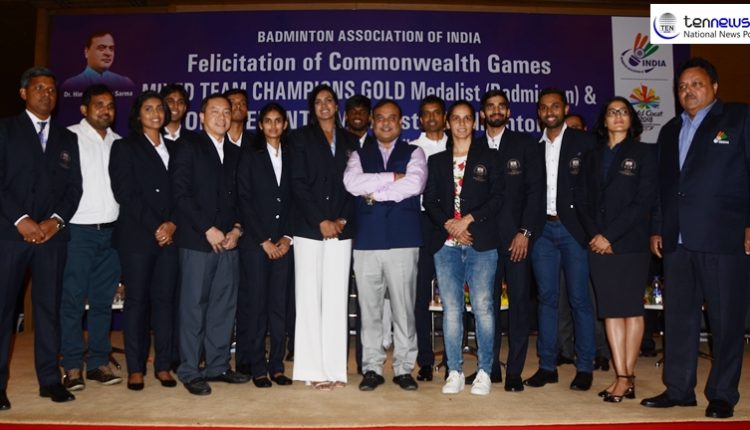 Badminton Association of India doles out cash rewards for CWG contingent for their historic performance!
PRERIT CHAUHAN (PHOTO/VIDEO BY SAURABH SHRIVASTAVA)
New Delhi: Celebrating the stellar show of the Indian Badminton Contingent in the Gold Coast CWG 2018, the Badminton Association of India rewarded the entire squad with cash prizes at a grand ceremony held at hotel Le Meridien in New Delhi.
The ceremony, which was attended ,by Indian Olympic Association president Dr. Narinder Dhruv Batra, former medallists, President of the Badminton Association of India (BAI) Dr. Himanta Biswa Sarma and other dignitaries, saw the federation award a whopping one crore thirty Iakh (1,30,00,000) rupees, including Rs 50 Iakh to the Indian Contingent (5 Iakh each to the 10 players) who created history by winning India's first ever gold medal in the mixed team events.
The federation also awarded Rs 20 lakh to Saina Nehwal for winning the gold medal in the individual event While PV Sindhu and K Srikanth were given Rs 10 lakh each for winning silver in their respective events. The young men's doubles pair of satwikasairaj RankiReddy & Chirag Shetty, who etched their name in history books by becoming the first ever men's doubles team from India to win a medal in the CWG, were awarded
Rs 15 lakh (Rs 7.5 lakh each). The women's doubles pair of Ashwini Ponnappa and Sikki Reddy were also given Rs 7.5 lakh (Rs 3.75 lakh each) for their bronze medal winning feat.

"It gives me immense pleasure to be standing here to celebrate the heroics of our players in the Commonwealth Games. They have not only created history but have once again cemented lndia's reputation as being one of the top performers globally," said Dr. Sharma, BAI President during the Felicitation.

"I would like to congratulate the entire coaching staff for their effort and the players once again for their Asian Championships triumph too," he added

Addressing the Gathering, Sania Nehwal Said, "Whole team is very happy. Winning gold medal was a dream come true. Thank you gopi sir and and a big thanks to Badminton Association of India for felicitating us and always supporting us. We wll try to repeat our performances in future too, Thankyou everyone."

On the Occasions, Ace Badminton Player PV Sindhu Said, "Thankyou for motivating us. I would like to congratulate all the players who have made us proud. I congratulate all the individuals winner also. We have all done in CWG 2018 and future i know we will aslo do well."