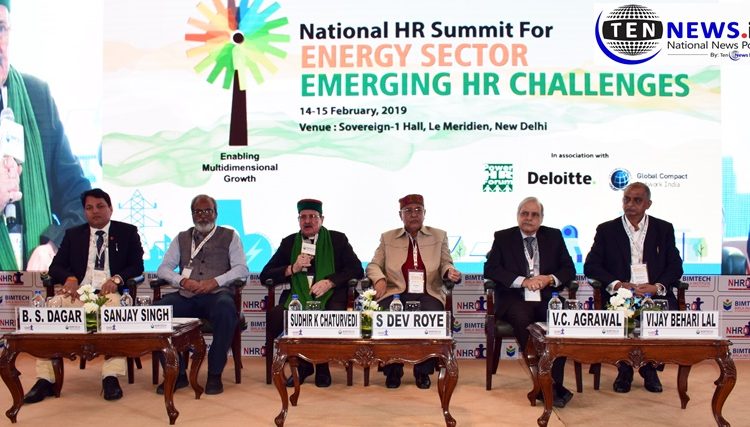 BIMTECH-NHRDN HR Summit on Energy Sector challenges concludes, ISA DG shares roadmap of energy sector's future
Vishal Malhotra (Photo/Video) By Lokesh Goswami Ten News Delhi :
The two day long National HR Summit for Energy Sector concluded with detailed discussions and deliberations on the Emerging HR Challenges in from of the sector.



The valedictory session witnessed renowned names of the academia, corporate and government coming together to share their thoughts over the future aspects of the energg domain.

Kamal Singh, Executive Director, UN Global Compact Network India said, "An ambitious Renewable energy target for future is 175 renewable gigawatts capacity. We have to recognise the power of people. If people power is not recognised, it will be tough to achieve the challenges of future. This sector is one business imperative going forward if India has to become top global economy. We have to now move to next level.

In his valedictory address, Upendra Tripathy, Interim Director General, International Solar Alliance and former secretary, ministry of new and renewable energy said, " Understanding the human mind, human brain is difficult. A lot of people get bosses with whom they have have understanding issues. If we want to get the best of an employee, we have to look at them as a family."
He also talked about International Solar Alliance and said, "71 countries have signed the ISA treaty. Recently we have altered the clause and ISA now allows any country of UN to become a member. We expect that 1.2 billion people who are without electricity get it by 2025. If cell phones are solarized in future, it alone will save a lot of energy. Every household can be a power generator and power contributor."
Upendra Tripathy has also been bestowed with the PM's award for public administration excellence in 2009.

Sushil Tripathy, Former secretary, ministry of petroleum and natural gas, said, "Solar is now becoming more and more convenient. It is important to have sensitivity towards environment. What nature has taken million years to create is destroyed by we humans in hours. Every individual must act an energy warrior."
"I hope all the HR professionals keeps themselves updated with the latest happenings jn the HR sector. People are efficient when they have good HR team .
Every professional in the energy sector has to have international orientation as there is no comfort in any rule based working sector.
Europe have a system called energy charter and we wanted to become member as any uncertainty can happen in which countries provideng us crude oil, denies to serve us with our demands and in this case, being a part of this energy charter can help."
"We need to look ahead and see that which direction we are supossed to go on. You need to look at various sources and how the situation is going to change. And situation is going to change! as we are consuming petroleum products on hour bases and we have no idea that it takes thousands of years for oils to be available for usages," he added.
SV Nathan, Partner and Chief Talent Officer, Deloitte India also addressed the panel.
KK Sinha, Dean-Executive Education, BUMTECH thanked all the speakers for sharing their knowledge with audience members.
"Change is the only thing constant and all panels have paid heavy emphasis on change, hence we have to focus on this aspect," he said.