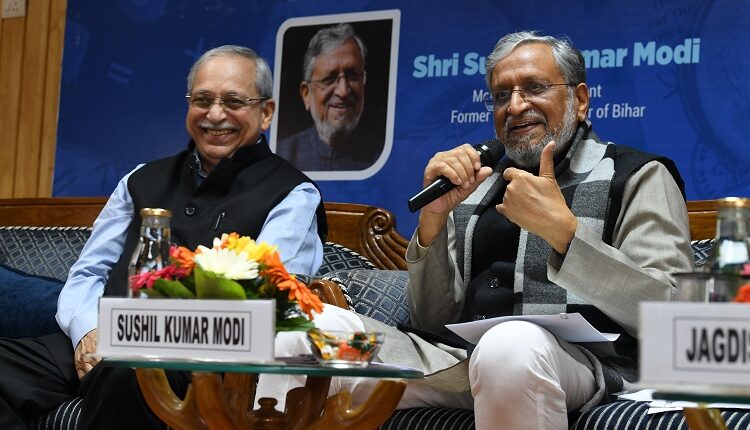 BJP MP Sushil Modi addresses BIMTECH students, shares insights on Union Budget 2023
TEN NEWS NETWORK

February, 11 2023: Member of Parliament Sushil Kumar Modi on Saturday addressed BIMTECH students at the campus, and shared his insights on the Union budget 2023.
He spoke at length about the global macroeconomic environment which has provided a unique backdrop and context for the budget. Punctuated by Russia Ukraine conflict, inflation across US and Europe, and mounting sovereign debts globally, India has continued to be a bright spot.
He highlighted the budget allocation of Rs.45 lakh crores, with infrastructure being one of the main takeaways of budget. This year budget has allocated Rs.10 lakh crores only on capital expenditure, whereas additional Rs.3.7 lakh crores has been granted to states to be used for CAPEX. In the last 9 years total of Rs.41.7 lakh crores was spent on CAPEX. One of the main advantages of CAPEX is the multiplier effect which is in between 2.5 to 2.9 times of the expenditure. This is an implicit boost on employment and overall growth.
Another major allocation of budget is for the railways, where government has allocated total of 2.4 lakh crore from the budget. He mentioned that around 1275 stations will be revamped, also by end of August 2026 bullet trains will be in function, around 100 critical infrastructure projects are identified and nearly 75,000 cr will be spent to provide first mile connectivity and last mile connectivity which will ease out the transportation of goods. The UDAN scheme of government nearly doubled the number of airports and around 1.10 crore were able to take benefit from this scheme in last 8 years.
For the last 16 years, total of 41 cr people have come out of poverty and the middle class which is 43 cr people at present will be increased to 71 cr.
Now, the simplified new Income tax scheme has made a significant change by increasing the exemption limit from 5 lakh to 7 lakh and this will cover more than 1 cr of the population. He mentioned about the Presumptive Tax scheme where the limit was increased from Rs.50 lakh to 75 lakh for individuals; for small businesses the limit is now 3 cr and the tax to be paid is on 8% of Rs.3 cr i.e., Rs.24 lakh.
He discussed how India is growing at a very significant pace and is able to create an impact all around the world by stating about digital transformation which includes Jan Dhan Yojana (Mobile and Aadhaar linking). Giving a new face to Direct Benefit Transfer (DBT), Indian government transferred money to Rs. 20 cr people during COVID-19 pandemic.
He touched upon some of facets of digital inclusion which has been provided by the government such as, UPI (around 7400 transactions were carried out in a single year with a volume of Rs.1.23 lakh crore), COWIN (providing vaccination certificate) and Digi Locker (around 12 cr people are the same with more than 300 agencies involved). New age reforms like AI, Operating system, central bank digital currency (CBDC) and Bhashini portal are part of the digital push.
The discussion concluded with optimism since the projection of growth rate places India as the 3rd largest economy leaving behind Japan and Germany by the year 2027.