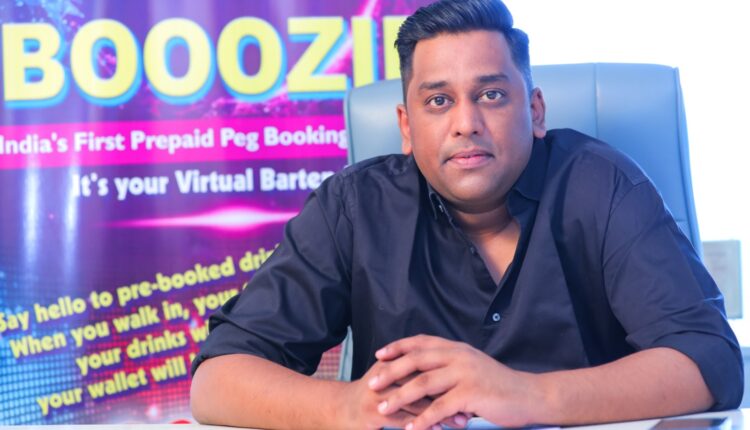 Booozie launched Pre Paid Peg (PPP) in Kolkata and Hyderabad
Kolkata, 10th March 2023: Booozie, the platform that took East India by storm with its 10 Mins Home Delivery of Liquor model aspires to reach out to the cost conscious Pub Goers. Booozie has launched a first of its kind discounted Peg concept, where a user can browse through an array of bars in the vicinity and book 30 Ml pegs on the Booozie App at a heavily discounted price.

Founder and CEO of Booozie, Vivekanand Balijepalli who claims to have drawn inspiration from his own experiences at Bars and Pubs said "How often do we struggle to decide on a place to go for a night out and party? I felt the need for a one-stop shop for users to decide on where to party and what deals to expect. The Pre Paid Peg (PPP) concept allows a user to Pre book pegs from the bars/pubs around them and consume it at a much lower price. The concept is popular globally, especially in the USA. It's like a user has a virtual bottle. This combined with our vibrant Social Media platform which gives users a space to express and share their experiences would build an interactive community for people who enjoy partying. It is purely a booking service where the point of consumption remains the licensed outlet."
Booozie is launching this service in the hometown of start-ups "Hyderabad", and "Kolkata" where they already have a strong presence owing to the 10 Min Home delivery concept. Popular pubs like Heart-Cup Coffee, Pause and Skylive have been onboarded in Hyderabad and Booozie plans to expand its services to Bangalore, Gurgaon, Mumbai and Delhi in the next few months.
On being asked on the response received from Pubs/Bars to this concept, Vivekanand replied " We at Booozie, have always believed that in an industry that is highly regulated, the key is to ensure that all stake holders interests are taken into account. State Governments who need the revenue from Excise; Pubs/Bars who pay license fees; Manufacturers who pay duties to supply to the excise; and the end users who pay for a good experience, everyone needs to benefit from the model. While liquor sales are slowly limping back to Pre-Covid numbers and the slow retreat from WFH norms, there is surely an increasing trend in individuals/ corporates wanting to step out for a good night's party. What better way than the PPP model to do it in a cost effective way. Unlike other discount models by the Dineout's and Zomato's of the world, where Bars/Pubs are expected to give discounts without assured sales, here we pay them in advance. Hence the response has been overwhelming."
This surely seems like a concept that could revolutionise the party experience for a lot of people. Deal Savvy Urban consumers could benefit a great deal with a service like this. Bringing Fin-Tech to the alcohol space is a pioneering move.
Vivekanand concluded by saying "We intend to take this concept Pan-India and even globally someday. We are proud to be the first company world-wide to be actively bringing innovation and technology to the liquor domain. Our In-app features promote responsible drinking and reduce excessive consumption through AI."