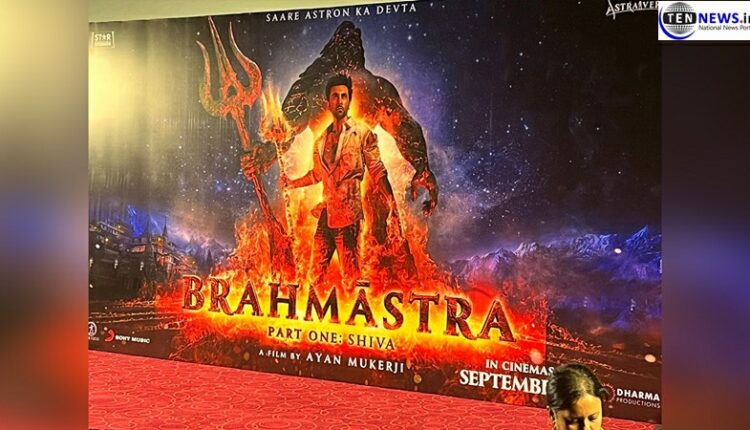 Brahmastra: Mesmerized by the acting & graphics, Delhi pubic showers love on the epic Bollywood adventure
Ten News Network
New Delhi, 10th September, 2022: After a lengthy wait, Alia and Ranbir's Brahmastra is now running in theatres across the country. 'Brahmastra', the epic Bollywood adventure features Ranbir Kapoor and Alia Bhatt in lead roles and Amitabh Bachchan, Mouni Roy, Nagarjuna in supporting roles. Shahrukh Khan appeared in a cameo role in the film.
Brahmastra was released at a time when the whole Bollywood industry, including Alia and Ranbir, was under siege from Hindu organisations. Boycott Ranveer, Alia, and Bollywood has been trending on Twitter and other social media platforms from last many weeks.
Despite the mixed reviews it received from the critics, the movies seems to have left a mark in the minds of people who watched it.
When Ten News interacted with some people who had gathered outside a cinema theatre in Connaught Place, Delhi, after binging on the film 'Brahmastra', a young lady named Prerna stated that the film Brahmastra is excellent, and that Shahrukh Khan has played an excellent role alongside Alia Ranbir.
"They have introduced a fresh new look to Bollywood. We shall make an appeal to the public to view this film. Alia and Ranbir have introduced a fresh new look to Bollywood," she added. Prerna gave Brahmastra four out of five stars.
A girl named Dimple told Ten News that Ranbir, Alia, Shahrukh, and Amitabh Bachchan have great roles in the film. The sound and visuals work well together hence the experience of watching Brahmastra in 3D is unique. Dimple stated that Shahrukh looks fantastic in a cameo role. Dimple gave Brahmastra 9 out of 10 stars, categorizing it as a family film.
A girl called Kashish described the film as "extremely good," with the roles of Alia and Ranbir being particularly noteworthy. "We've never seen anything like it, and it's a brand new venture in Bollywood," she added.
Kashish further commended Ranbir, Alia and Amitabh Bachchan, adding that all three played outstanding characters. Kashish gave Brahmastra ten out of ten stars.
Ashish, a viewer who came out after seeing Brahmastra, told Ten News, "Brahmastra is the first such film in Indian cinema that I appreciated the most. Brahmastra, I believe, will help Indian cinema go a long way." Ashish applauded Ranbir Kapoor's performance in Brahmastra, saying that the film accurately reflects Hindu mythology. Brahmastra received ten out of ten stars from Ashish.
The majority of people who came out after seeing Brahmastra in theatres gave the film positive ratings, after which everyone's attention is now focused on the film's box office performance.
It remains to be seen how much space the film can make in the hearts of the public and what will happen at the box office.