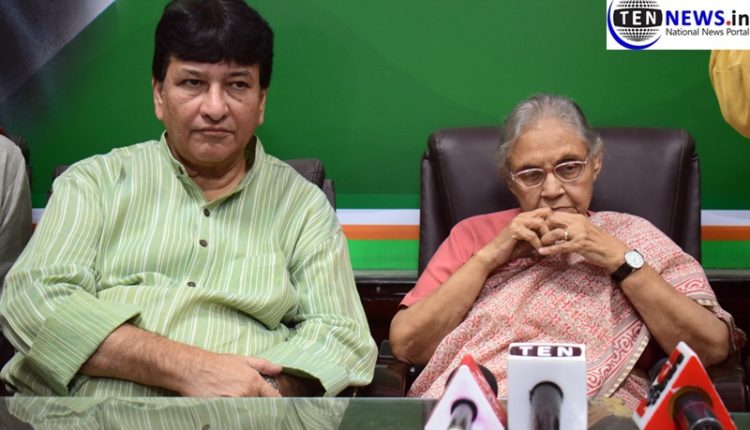 BSP leader Abdul Sami Salmani Joins Congress in presence of Sheila Dikshit
Prerit Chauhan (Photo/Video) By Lokesh Goswami Ten News Delhi :
New Delhi: Delhi Congress today welcomed many prominent leaders from other political parties today as they joined the Rahul Gandhi Led Congress party in the Presence of Former Chief Minister of Delhi, Sheila Dikshit.
Haji Abdul Sami Salmani, national president, Indian Backward Conference, BSP leader and former Councillor Anand Kumar Gautam, General Secretary, Swaraj India party, Mohd Shahid Siddiqui, Jamayate Siddiqui, Backward Conference, and who contested Parliament election from East Delhi and many others joined the Congress party today.

 
Abdul Sami Salmani, Anand Kumar and other leaders said that they fully subscribed to the policies and programmes of the Congress party, and the Congress manifesto of "Ham Nibhayenge" will be beneficial to all categories of people, and the promise to give Rs 72,000 to the poorest 20 per cent families across the country, i.e 5 crore families and 25 crore people, which was announced by Congress president Rahul Gandhi,  was a very noble gesture.
They further said that Rahul Gandhi and Sheila Dikshit were the leaders who listen to the voice of the poor people. They said that Congress is the only party which fights against communal forces. They said that they would strengthen the Congress party to take on communal forces like the BJP and the RSS. They said that they would spare no effort in ensuring the victory of the Congress candidates in the ensuing Lok Sabha elections.
 Speaking on the occasion, Sheila Dikshit appealed to all those who joined the party today to make door-to-door visits to  have direction interaction with the people, and popularize the salient features in the Congress manifesto, and the policies and programmes of the Congress party.