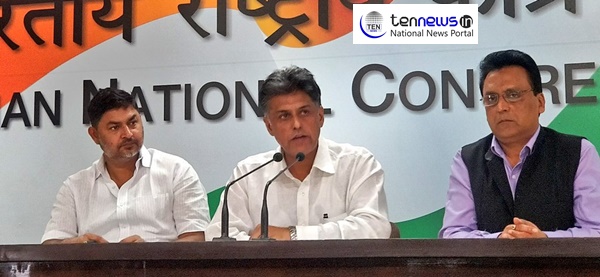 New Delhi: The Congress party will observe 'black day' to mark the second anniversary of the Central Government's demonetisation drive on November 8.
Last year also, the Congress and other Opposition parties protested at various places across India against the Central Government's drive.
Addressing the Media today, Congress Spokesperson Manish Tewari said,
"Congress will protest on November 9th across the country on second anniversary of Demonetisation. We demand that PM Modi should apologise to people on November 8th for Notebandi. Congress leaders and workers will protest across nation on Novemeber 9."
Slamming BJP on Finance Ministry proposal seeking to transfer a surplus amount of Rs 3.6 lakh CRORE, Tewari said, "Government wants RBI to part with 3.6 lakh crores,that's one third of the cash reserves of central bank.RBI has been resisting this unprecedented demand of the Govt. If this fructifies,it would tantamount to the Great Indian Bank Robbery -Yeh RBI pe seedha daaka hoga!."
Further Congratulating Congress -JDS alliance on Karnataka bypolls,
"Negative forces are being defeated in Karnataka . It's an indication that the mood of the nation has changed. Out of 10 LS bypolls that took place, Congress & like minded parties have performed," Added Tewari.