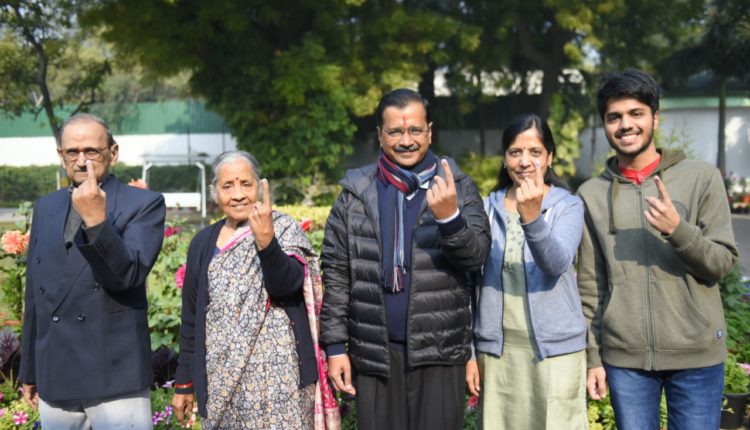 New Delhi : Delhi Chief Minister Arvind Kejriwal on Saturday casted his vote here along with his family, saying he is hopeful for a third term in the office. Kejriwal casted his vote at the Rajpura Transport Authority in Civil Lines area amid tight security.
However a brief scuffle kind of situation got created among the media persons for taking his bytes. As soon as the CM accompanied by his parents, wife and son, a first-time voter came out of polling booth, electronic media personal & photographer hogged on him for bytes and photographs. That Turned into a bang and latter to a scuffle like situation among media personals.
Sharing a photo with his family, Kejriwal tweeted: "Voted along with my family, including my first-time voter son. Urge all young voters to come out to vote. Your participation strengthens democracy."
Ten News also interacted with some of the first time & women voter's who shared their views. One the first time voter accompanied by her father said, "We should give everyone a chance to show their work and with the same mindset I had casted my vote. Apart from the education & women safety remained in my priority while deciding my vote."
Tight security arrangements are in place across the national capital with extra vigil in south-east Delhi's Shaheen Bagh, where a protest against the Citizenship (Amendment) Act is going on for nearly two months, and other sensitive areas. This election a total of 1.47 crores voters are deciding the fate of all the contestent.
On the other side after a slow start, polling for Delhi assembly elections picked up pace and 30.11 per cent voter turnout was recorded till 3pm for the 70-member Delhi assembly.