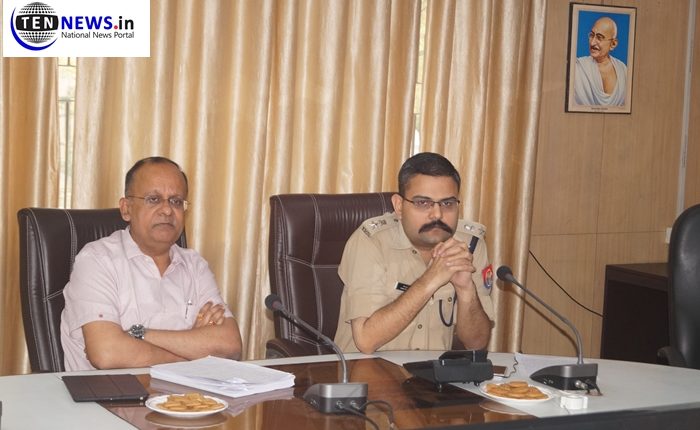 District administration invoked NSA against sand mafia for constructing Dam in yamuna
Saurabh Kumar / Baidyanath Halder
Greater Noida (06/06/2019) : The Gautam Buddh Nagar district administration on Tuesday passed an order invoking the stringent National Security Act (NSA) against the kingpin of a sand mining mafia who had built a dam on the Yamuna River, obstructing its flow.
The order, the first of its kind against the sand mafia, has been passed to press charges under section 3(2) of the NSA against Sanjay (28), district magistrate Brajesh Narayan Singh said. This particular section of the NSA seeks to prohibit bail to any person with a view to prevent them from acting in any manner considered prejudicial to the security of the state or public order, among others.
"Sanjay had a well organized gang which had created a dam on the Yamuna on July 11. The illegal construction, which had obstructed the natural flow of the river, was used by them to take heavy mahin to the other side of the Yamuna and collect sand illegally," Singh told reporters at a joint press conference with senior superintendent of police Vaibhav Krishna .
"The way they were working is not only a case of illegal mining, but they were also destroying the environment, ecology in several ways, What this sand mafia has done qualifies as public order destruction, therefore, besides acting against him under the Gangsters Act, we have passed an order to invoke the National Security Act also," the district magistrate said."
SSP Vaibhav Krishna said "Both Sanjay and his father are registered as mining mafia in district and this time we are imposing NSA on Sanjay. This NSA will also be one of its kind as both he and his father is booked under NSA. This action is also a clear message to all the anti social elements that administration will take tough action against them if they will try to disrupt the peace and harmony on the district"
He has been reportedly involved in illegal sand mining for around 15 years now and has 17 cases registered against him at various police stations. He has also been involved in attacks on government officials in the past. Besides illegal mining, two of the cases against him at the Kasna police station in Gautam Buddh Nagar are under the Gangster Act," SSP said.
"Sanjay is currently lodged in the district jail here and he is trying to get released on bail and for that he had applied in Allahabad High Court. So on June 7 and June 12 court will be hearing his petition so concerning that we have taken this decision. Once out, he would probably engage in illegal mining and may attack public servants and security officials which may disturb public order," DM added.
For now district administration has invoked total of 7 NSA in district while some are in waiting over which sooner action will be taken. DM also made clear that at any cost industrial environment of this district will not be allowed to disrupt.