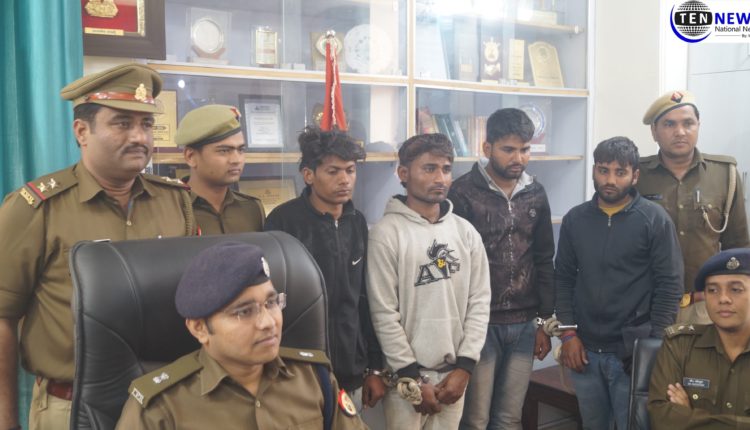 Four arrested by Noida Police for Murdering a truck driver, while attempting loot
Saurabh Kumar
Greater Noida (28/2/2019) : Noida Police arrested four accused in murdering a truck driver while attempting to loot him. Police had arrested the accused over the tip of police informer on 27th February.

On 20th February the accused had abducted a truck driver who was on his way with his consignment of 126 Symphony cooler who was later shot by the accused.
As per the information on 20th February, the owner of truck, Rajkumar Pandey registered a complaint against his driver under Kasna Police station. But later on, Haryana police recovered a dead body which is later confirmed as Ajay Kumar Vishwakarma, the same truck driver against whom Rajkumar Pandey had filed the complaint.
On 20th February when the victim left the factory around 8:30 PM with the consignment, the accused took a lift from him asking the driver to drop them to Kasna Bus stand. After boarding, as the truck reached Honda Roundabout the accused took over the control of the truck on gunpoint and headed it towards the Eastern Peripheral Expressway.
Thereafter crossing Yamuna River and entering into Faridabad district of Haryana the accused Rohit and Sachin sidelined the truck on the E way and shot the driver after taking him into fields. Then they fled with the truck and reached to Palwal, Haryana as per the plan and handover the truck to Gaurav and Satish (two more accuseds involved in the crime).
Vineet Jaiswal SP Rural GBN told that "We had arrested all the four accused involved in the crime and also had recovered 90 coolers out of 126 and the Country made pistol of .315 bore used in the murder.
As per the market, the total cost of the consignment was 12 to 14 lakh. While one of the accused Gaurav is suspended from Indian Army two years ago for murdering his wife"