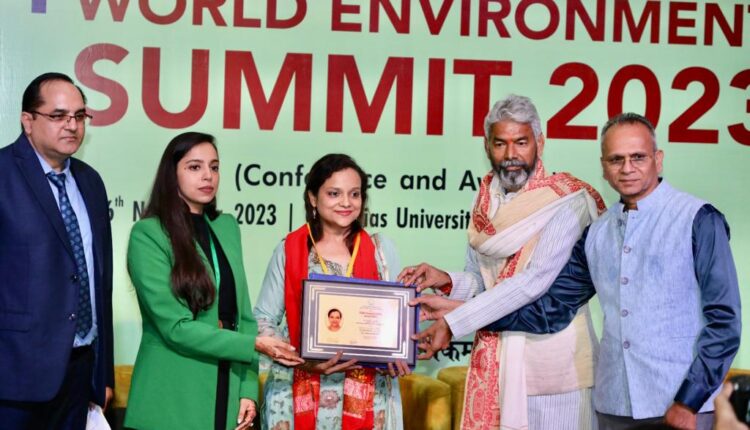 "Fourth World Environment Summit 2023" concludes at Galgotias University
TEN NEWS NETWORK

Three-day "Fourth World Environment Summit 2023" concluded on Tuesday at Galgotias University.
A special felicitation session was organized for the Padma Awardees during the summit. The session was presided over by G Ashok Kumar, Director General of NMCG, Ministry of Jal Shakti. During the session, Padma Bhushan Dr. Anil Prakash Joshi, Padma Shri Raja Lakshman Singh, and Padma Uma Shankar Pandey were felicitated.
100 volunteers from Galgotias University and BR Ambedkar College worked to make this event a huge success, where the workshop was attended by participants from approximately 22 states and 9 foreign countries. A total of 493 abstracts were submitted. Moreover, 55 dignitaries were honored during the summit, who have dedicated their life to the service of mankind and environment.
Dr. K Mallikharjuna Babu, VC Galgotias University delivered a valedictory lecture and expressed gratitude the organizing secretaries Dr. Jitender Nagar and Mr. Raj Bhati for successfully conducting the event that was attended by large number of participants both offline and online.
Suneel Galgotia, Chancellor at Galgotias University mentioned that environment is not just a collection of resources; it's rather the foundation of our existence. He believes that it is our collective responsibility to act as stewards of this planet, to ensure that we leave a thriving, sustainable world for future generations.
Dr. Dhruv Galgotia, CEO, mentioned that the challenges we face today are global in nature, from climate change and biodiversity loss to deforestation and pollution. They require concerted efforts from all nations, across boundaries and ideologies.
Ms. Aradhana Galgotia, Director Operations, while addressing the gathering mentioned that we must recognize that the consequences of inaction are dire. Climate change, in particular, is a looming threat that knows no borders. It is our moral duty to address this crisis and Galgotias University is committed to do so.
She urged individuals, business houses and governments to embrace sustainable practices, adopt clean energy technologies, and prioritize conservation efforts. By doing so, we can mitigate the impact of climate change and protect the delicate ecosystems that support life on Earth. We should promote education and awareness about the environment. Knowledge is a powerful tool, and when individuals understand the interconnectedness, they are more likely to make eco-conscious choices.
Let us also foster international cooperation, forging partnerships that transcend political differences in the name of environmental preservation. Together, we can create policies, strategies, and innovations that will drive us toward a more sustainable and resilient future.
She said that the World Environment Summit provides us with a unique platform to unite in our commitment to safeguard the environment. Let us leave here today with renewed determination and a shared vision of a world where nature thrives and humanity coexists harmoniously.