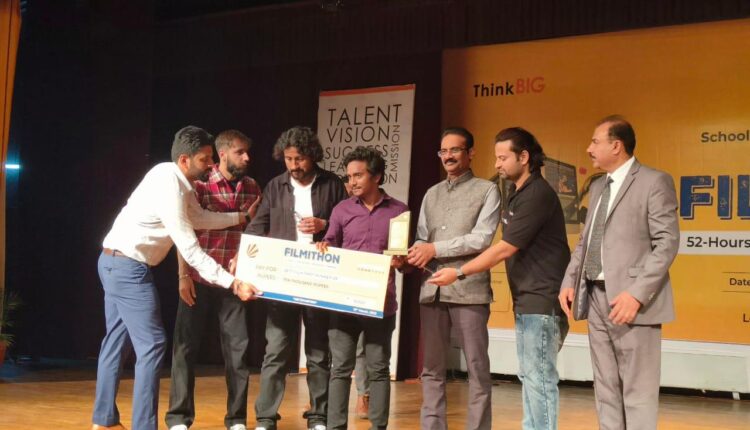 Galgotias University's students bag award in film making at Filmithon 2023
TEN NEWS NETWORK
Greater Noida, 16th March: The students of Department of Mass Communication, Galgotias University won second prize in 52 hours film making challenge "Filmithon 2023" organized by School of Journalism and Film and Creative Arts, Lovely Professional University on 13th March, 2023. The students from 16 cities were participated in this event. Renowned journalist & filmmaker Vinod Kapri; Content Head at Indian Language OTT Platform-STAGE, Parvesh Rajput; and RJ Sameer from Red FM marked their presence on this occasion.

A total of three entries were sent in the film festival by the department of Mass Communication, Galgotias University. In which one film won the second prize and got Rs.10000/ as token of appreciation.
The film was made on the issue of social media addiction by Ishaan Shrivastava, Medhya Gupta, Kartik Madan, Pratyush Ranjan, Vansh Kalra, Karan Sharma, Sparsh Kalra, Abhinav Khantwal, Mayank, and Aditi.
Prof. K Mallikarjun Babu, Vice-Chancellor, Galgotias University appreciated students and conveyed message about the ecosystem and practical approaches of the media and journalism.
Dhruv Galgotia, CEO, Galgotias University also appreciated students and encouraged them to participate in the "Anhad film festivals 2023". It will be organized by the department of mass communication on 10-11th April, 2023.