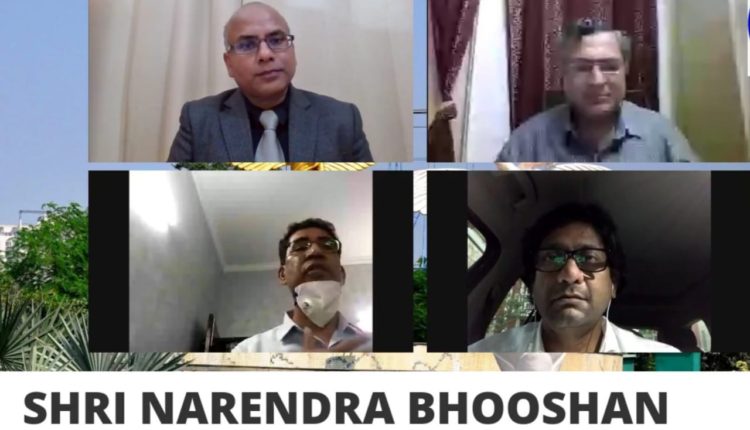 Gautam Buddh Nagar Slips To 5th Position In Corona Cases In UP: Gr Noida Authority CEO Narendra Bhooshan
In a webinar by Ten News, Greater Noida Authority's CEO and Nodal Officer for COVID-19 in Gautam Buddh Nagar district Narendra Bhooshan said that the administration has been able to contain the deadly disease to some extent in the district which is proven by the fact that the district slipped from the 1st position to 5th position in terms of number of COVID-19 cases in the state of Uttar Pradesh.
In his address, he touched upon the sanitisation drive by Noida and Greater Noida Authority and also stated the importance of sanitisation at an individual level.
He urged the residents to follow social distancing wherever they go, saying that he himself maintains a certain physical distance from the officials of Authority.
He also emphasized on contactless delivery and the role of RWAs in ensuring contactless delivery. He suggested that RWAs should employ volunteers in societies and deploy them at each tower to act as a mediator between delivery boys and residents.
Another panelist, Aditya Ghildyal, Vice President at Association of Greater Noida Industries, said that the small industries are going to be severely affected due to a double strike on them, one by the lockdown and second by the government's order which binds them to pay salary to their employees.
He also said that the unemployment will be a big issue in the Gautam Buddh Nagar district and especially in Greater Noida as the multinationals will be laying off their employees.
Sudeep Sarkar, CEO at India Expo Mart, said that the Mart has taken a proactive step by starting a virtual trade fair platform for MSMEs / exporters and buyers.
"The sentiments in the market have taken a backstep. Bhooshan Sir has also said that we need to keep the sentiments up. The virtual trade fair platform will help keep sentiments up by connecting suppliers and buyers."
Dr. Prof. Siddharth Gupta, consulting editor at Ten News and senior advisor at Anti Corona Task Force hosted the webinar and gave an overview of the current status of COVID-19 in the district.